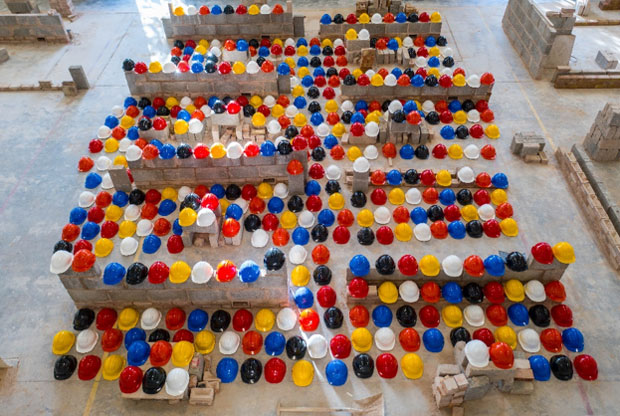 A total of 454 hard hats have been laid out at the Leeds College of Building to represent the number of construction workers who die from suicide each year, as new research finds that almost half (49 per cent) of UK tradespeople experience mental health problems due to work.
The exhibition was organised by supplier of specialist ironmongery, IronmongeryDirect, for National Mental Health Awareness Week (10-16 May) as part of its wider campaign to raise awareness of mental health issues amongst the UK trades.
The vast collection of hard hats was displayed to visualise the scale of the suicide problem within the construction industry. Shockingly, male builders are three times more likely to take their own lives than the average UK man, with almost nine tragedies a week.
Mental health problems are unfortunately common amongst tradespeople. Nearly three in five (58 per cent) deal with some form of issue, such as stress, anxiety or depression, at least once a week, resulting in over a quarter (28 per cent) taking medication.
Finances are the biggest cause of stress (38 per cent), but tensions with customers (31 peer cent) and suppliers (29 per cent), as well as high workloads (26 per cent), also add to the strain.
Sadly, more than one in four (29 per cent) tradespeople say they do not feel comfortable talking to anyone about their mental health.
As part of its campaign, IronmongeryDirect has partnered with the mental health charity, Mind, and donated £5,000 to support its crucial services.
Furthermore, 100 of the hard hats from the stunt have been donated to the Leeds College of Building to hand out to its students.
Emma Mamo, Head of Workspace Wellbeing at Mind, said: "We know that issues like stress, anxiety and depression are common in all workplaces, but that there are some sectors where poor mental health is even more prevalent, including construction.  
"Because men generally find it more difficult to talk about how they're feeling, in male-dominated industries such as construction, employees are often less willing and able to open up about their mental health and ask for support. This can be problematic because mental health problems often become worse if left untreated, and the consequences can be fatal. 
"We're pleased to be working with IronmongeryDirect during Mental Health Awareness Week to launch our 'Mental Health in the Trades' report highlighting the scale of poor mental health across the sector, and urging employers within construction to create cultures where employees can speak openly and honestly about their mental health." 
Marco Verdonkschot, Managing Director at IronmongeryDirect, said: "It's heart-breaking to hear the statistics – on average, at least one construction worker dies from suicide every single day of the year – but seeing the scale of the problem laid out visually really hits home.  
"Unfortunately, mental health problems are common in the construction industry, but lots of people don't feel able to talk about their feelings. This stigma needs to be addressed if the awful suicide statistics are to be lowered, so hopefully by raising awareness of the issue, things can start to gradually improve."