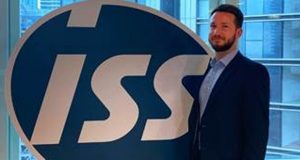 Jamie Hall has been appointed Energy & Sustainability Director for ISS UK's Sustainability division.
ISS Sustainability provides an environmental outsourcing solution covering sustainability, energy, carbon and waste to further complement ISS' integrated FM service offering.
Hall, who joins the business from Mitie Energy where he fulfilled the role of Operations Director commented: "The next decade is critical in the global challenge to tackle the impacts of climate change. Our mission is to support clients on that journey.
"The responsibilities for ISS Sustainability are two-fold; firstly, we provide expertise and advice to help clients shape their sustainability strategy, and secondly we can then provide and manage the solutions that deliver their ambitions."
Ian Baxter, Managing Director of ISS Sustainability added: "Our corporate clients have made commitments to the UN's Sustainable Development Goals and science-based targets (among others), but need help to achieve their ambitions. We've advised corporate clients for many years in the delivery of sustainable workspaces as part of our full FM service, but Jamie's appointment is part of a wider agenda to ensure we are can continue to be the partner of choice in this arena."
ISS' sustainability strategy is focused on transforming clients' workplaces to zero carbon spaces within the next decade. ISS' commitment to self-delivery and the IFS (Integrated Facility Services) model means there are 'boots on the ground' in client organisations and therefore a unique ability to deliver sustainable workplace improvement programmes and implement sustainable innovation.