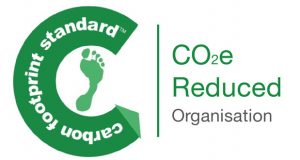 Arcus FM has been awarded the 'Carbon Footprint Standard – CO2e Reduced' status for the entire organisation following a recent audit.
Last year the company achieved the 'Carbon Footprint Standard – CO2e Assessed' status and says its is "delighted to have moved up a level this year".
The UK-based FM provider has its own Sustainability Policy and is working towards a 40 per cent reduction in CO2e emissions normalised by revenue by 2025 from a 2019/20 base year. It has a supporting five-year carbon reduction action plan to help achieve this target within its organisation and alongside this, Arcus is developing its longer-term net zero plans and helping its clients with achieving their net zero targets too.
Following the Coronavirus pandemic, Arcus, like many others, adapted its ways of working and subsequently saw a decrease in its grey fleet mileage contributing to a large part of its reduction in CO2. The company changed its offices' utilities contracts to secure supplies from green sources as well as making energy efficiency improvements in its largest office to also contribute towards the reduction.
Chris Green, CEO of Arcus FM, said: "We're really proud to have achieved the 'Carbon Footprint Standard – CO2e Reduced' level. Sustainability is high on our agenda and across the business we're implementing our Sustainability Policy, making changes that will have a positive effect on society and the environment whilst also supporting our clients with their targets for a more sustainable future.
"The Covid-19 pandemic meant we had to adapt the way we worked, and we saw many of our colleagues working from home and using virtual tools to carry out their roles effectively.
"This new way of working has helped drastically reduce our grey fleet mileage and drive down our carbon emissions. We're taking this learning further and have implemented a 'Drive Down CO2 by Dialing In' initiative to support the delivery of our million (business) mile reduction target by the end of the financial year and to encourage grey fleet colleagues to work virtually where possible."
The business has also rolled out a Carbon Awareness and Reduction Toolbox Talk to all of its colleagues to raise awareness of climate change and provide tips on how colleagues can help Arcus deliver a carbon reduction and meet business targets.
Dr Wendy Buckley, Client Director of Carbon Footprint Ltd, said: "Despite these challenging times, we've been delighted to see Arcus FM succeed in moving forward with its carbon reduction programme, tackling business carbon emissions via a programme of technology and behaviour-led initiatives. Arcus FM sets a leading example to the industry and it's our hope that many others will adopt this approach to help meet net zero emission targets that will help mitigate climate change."
The Carbon Footprint standard demonstrates that an appropriate assessment methodology has been followed and the emissions have been reduced. The assessment and supporting evidence are individually verified by Carbon Footprint Ltd.'s team of specialist greenhouse gas emission assessors.
FMJ and Grundon Waste Management have launched the 2021 waste and recycling management survey. It's the fourth year for the annual appraisal of how FMs manage their waste and recycling activities and one which marks an unprecedented period of disruption to services due to the pandemic.
In order to understand how FMs have navigated their way through the last year and their plans for meeting stringent waste and recycling targets we've posed a series of questions – aided by the advice and experience of our editorial steering committee.
The results of the 2021 survey will be published in FMJ magazine and form the basis of a white paper co-written by FMJ and the experts at Grundon on how to approach waste and recycling strategies.
To take part in the survey click here.