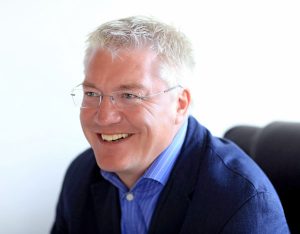 The Association for Specialist Fire Protection (ASFP) has appointed Steve Davies as its new Chief Executive Officer.
Having joined the Association on 1 March, Davies will officially take the reins at the ASFP's AGM on 28 April, when outgoing CEO Niall Rowan will stand down.
A Chartered Mechanical Engineer "by trade", Davies brings a wealth of experience in senior leadership, as well as technical and operational capability from a range of industry sectors. He is a skilled trade association CEO with a strong track record of advancing and growing the reach and profile of such organisations, as well as developing and improving member support and services.
Davies joins the ASFP from the Lighting Industry Association (LIA), where he was CEO for over seven years. He led the association through a successful period of growth and development, including the establishment of a UKAS-accredited product testing laboratory and an industry-specific training academy. Prior to this, he was CEO of the newly established National Skills Academy for Power, responsible for its creation, growth and development; and Chief Executive/Commercial Director at Make UK/EEF Ltd, where he was responsible for the operational and strategic management of a regional association, as well as UK-wide commercial activity.
Speaking of his appointment, Davies said: "I am excited to join the ASFP at such a pivotal point in its development. The Association has gone through a period of substantial change and growth in recent years. I will build on its achievements and continue its transformation into a modern, professional and outward-reaching association that will represent the needs of its members and the industry long into the future.
"The ASFP has an enviable reputation as a leading authority on passive fire protection. While continuing to develop and improve the services and support offered to members, I will seek to raise the ASFP's influence in the wider construction industry, ensuring that the competency and professionalism of the Association and its members is recognised throughout the sector.
"Further development of the Association's highly successful technical and training offerings will be key to its future growth. New frameworks for delivery will take these to the next phase and enable the ASFP to reach a broader audience and advance knowledge and guidance on all aspects of 'built-in' fire protection."