Six workplaces across the North of England and Northern Ireland have been recognised at the annual British Council for Offices Regional Awards.
The Northern BCO Awards dinner returned in-person yesterday at the Kimpton Clocktower in Manchester, recognising the North's highest quality developments and setting the standard for excellence in the office sector across the UK.
The winning workplaces include:
Taylor Wessing, Edward Pavilion, Albert Dock, Liverpool (Projects up to 1,500m2)
Bloc, 17 Marble Street Manchester (Refurbished/Recycled Workspace)
PwC Northern Ireland, Merchant Square, 20-22 Wellington Place, Belfast (Fit Out of Workplace)
Sunderland City Hall, Plater Way, Sunderland, (Corporate Workplace)
Two New Bailey Square, 6 Stanley Street, Salford, (Commercial Workplace)
The Spine, Paddington Village, Liverpool, (Innovation)
Highly Commended workplaces:
Glasshouse, Alderley Park, Macclesfield and Tailor's Corner, 25 Wellington Street, Leeds (Highly Commended – Refurbished/Recycled Workspace)
Pipewell Quay, Pipewellgate, Gateshead (Highly Commended – Corporate Workplace)
Winner of the Projects up to 1,500m2 category, international law firm Taylor Wessing, chose Edward Pavilion, a Grade I Listed building on Liverpool's Royal Albert Dock, as its new home in the city. Working with contractor ADT Workplace and the project management team at Hollis and designer, kin, they have created a high-class working environment. The BCO North judging panel were impressed with the varying workspaces, including formal desks, meetings booths, casual meeting areas and spaces for quiet work. The new office provides a flexible and agile working environment for the Taylor Wessing team, who can choose for themselves the best way to work. The use of rich textures throughout, set against the backdrop of industrial brick and steel, creates an engaging and distinctive interior space. The panel noted the creation of an inspiring space with an impressive, first-class overall finish.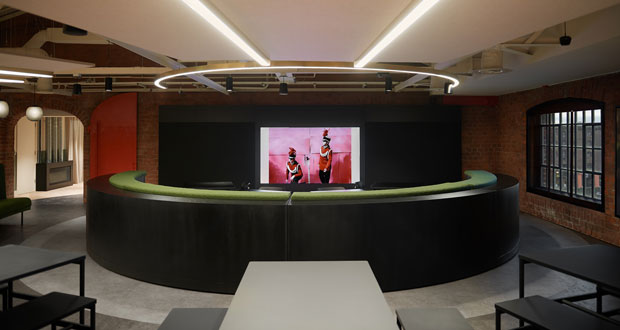 In the Refurbished Recycled Workplace category, Bloc is Bruntwood Works' most evolved workspace to date. The iconic Brutalist building is a stalwart of the Manchester skyline, but the interiors have been transformed to create an urban oasis with wellbeing at its core. Applying the latest thinking around wellness, productivity and work-life balance, Bruntwood Works and Bridge Architects have transformed Bloc internally while the new HYVERT living wall wraps the building and the exterior. Greenery is present throughout Bloc's interior, improving workspace air quality and powering productivity. The BCO North judges felt that the focus on wellness-inspired, brand new shared facilities, unparalleled levels of biophilia and sensor technology creates an award-winning healthy and productive workspace.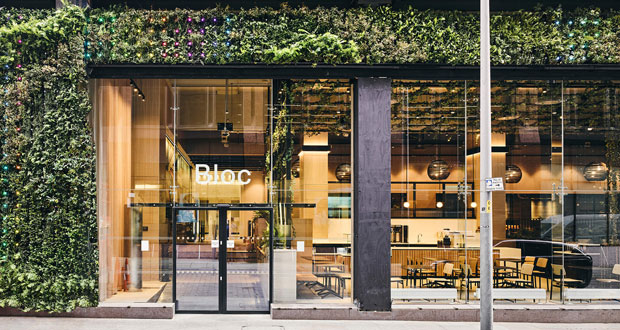 Taking the top award in the Fit Out of Workplace category, Merchant Square in Belfast city centre continues PwC's workplace evolution and is its most advanced workplace to date, fully supporting post-pandemic hybrid working and symbolising the value of the office as a contributor to culture. BREEAM Excellent-rated, it will enable PwC to meet its future Net Zero targets through the focus on sustainability, agility and the ability to flex space to match supply with demand. Post-occupancy employee feedback showed that the effect the fit out has had on PwC's people has been transformational. The BCO North judges felt that the bold move to focus the workplace around flexible, tech-enabled communities provides an exciting environment which supports the core values of agility, innovation, diversity and inclusion and engenders a proactive approach to climate change and the firm's Net Zero commitments. Employees' well-being is at the heart of the design, with the dedicated wellbeing space and supporting digital platform, providing a superb example of a company truly investing in its people.
The BCO North judges awarded Sunderland City Hall the prize for best Corporate Workplace, a building which represents an early-stage catalyst in a phase of transformational regeneration and change for Sunderland. City Hall creates space for both a public sector work force and for private enterprise and there is a publicly accessible ground floor which contains a multifunctional council chamber, customer service centre and cafe spaces. Particular design consideration has been given to assuming a distinctive civic presence in the redevelopment of the city and a positive engagement with Keel Square and the wider Riverside Sunderland masterplan. The building provides all the tools for work collaboration and social support, and then wraps them in an architectural and interior design which is embedded in its local context. Inside the building, the innovative arrangement of floor plates offers engaged workspaces which actively encourage cross-pollination of a previously dislocated workforce. The central staircase is inspired by Sunderland's rich industrial heritage, creating a sculptural and iconic symbol in the uplifting, light-filled heart of the project. The BCO North judges were inspired by the project which they praised for setting a new bar for both Corporate Workplace design, and the public sector workplace.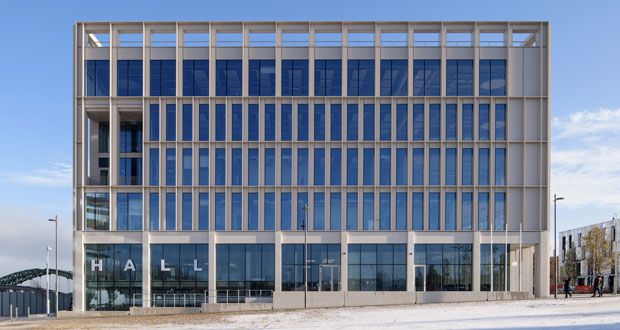 Winner of the Commercial Workplace category, Two New Bailey Square, is an inventive office building which impressed the judging panel with its flexible and characterful working environments. Referencing the spirit of Salford's industry and the site's setting on the River Irwell, the architecture creates a 21st century warehouse for work. The development's iconic red steel structure is exposed and brought to the outside to provide solar shading for an elegantly fabricated façade, while servicing systems and surface finishes are expressed to provide personality to the interior. The street is activated by a mix of complementary uses and each floor enjoys generous private outside decks. Occupiers also have access to a rooftop terrace benefiting from panoramic views across Manchester and Salford.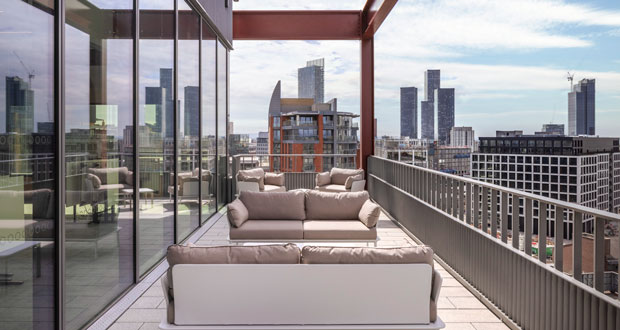 In the Innovation category the BCO North judges agreed that The Spine, provides a truly impressive new Northern home for the Royal College of Physicians. Designed to exceed WELL Platinum Standard, it will be one of the healthiest workspaces for mental health and wellbeing in the UK, as well as BREEAM Excellent (shell and core) and BREEAM Outstanding (RCP fit-out). The judging panel noted that The Spine is an outstanding and innovative example of using workplace design to support cultural change, whilst providing a highly sustainable built environment and protecting the wellbeing of those that interact with it. The design focuses on the building occupants, supporting the College's desire for positive interaction, teamwork and openness, while at the same time demonstrating their leading role in healthcare and developing their presence in the North.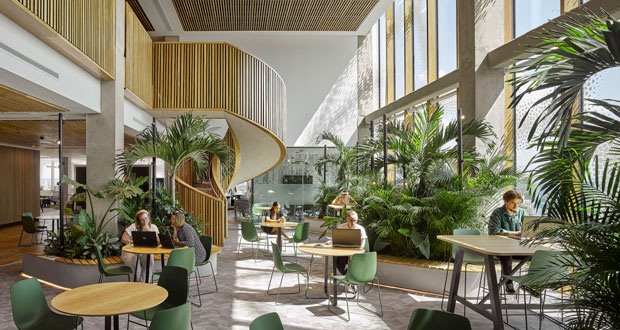 Thomas Bone, Associate Director Hoare Lea and Chair of the BCO Northern Judging Panel commented: "The record number of submissions and the outstanding quality of our Northern winners and highly commended entries is a powerful demonstration that, despite the turbulence caused by the global pandemic, the office has never been so important. The pandemic has turbo charged changes that were already occurring in our sector and a number of common themes were evident in all of the categories including rapid evolution, wellbeing, collaboration and innovation to deliver new hybrid ways of working. The high number of entries which were refurbishments, recycled or fit-out projects also shows a growing importance of sustainability in our sector and tonight was a perfect showcase of what the Northern region has to offer and what the sector can achieve."
Richard Kauntze, Chief Executive of the BCO commented: "I am delighted to see the BCO Regional Awards programme return to in-person events after two years of disruption, enabling industry professionals to reconnect whilst celebrating excellence and best-in-class design. From Sunderland's superb new City Hall which brings together collaborative public and private working spaces to PwC's highly sustainable hybrid workspace at Belfast's Merchant Square, many of this year's Northern winners have been people-focused, putting human need at the centre of their designs. I look forward to seeing how these winning offices perform at the BCO National Awards in October and wish all entrants the best of luck."
Northern winners will now compete with those from other regions at the BCO National Awards in October 2022.
To see the award winners for the London region click here.
Your free ticket to Facilities Show 2022
Join thousands of your FM peers from across the world at ExCeL London on 17-19 May.
Bring the team and boost your CPD, your skills and your career with seminars and workshops. Test, trial and source smart solutions across technology, cleaning, FM services, waste and energy management; and meet a host of suppliers for new business collaborations.
5 Shows. 1 ticket.
Your free ticket to Facilities Show gives you unlimited access to four other co-located events, meaning you have a unique opportunity to enhance your facilities management strategy with products and solutions from across facilities management, security, fire protection & prevention, intelligent buildings and health & safety.