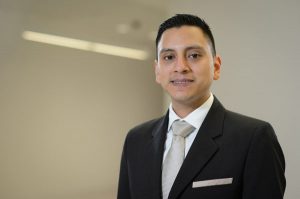 The London-based bespoke hospitality services company has responded to the drive for cost efficiencies within workplaces and commercial estates with the creation of a new concierge service that integrates traditional reception and hosting services with building security.
The launch of Bennett Hay's new concierge service has resulted in Security Industry Authority (SIA) registration which means that reception, hosting and security services will become a new blended service thereby saving on headcount and the potential fixed costs associated with a 24/7 service.
The SIA registration also means that appropriate protocols, procedures and training have been developed to deliver a security licensed concierge service. This is tailored to each client and workplace and is a reflection of their corporate brand and values.
The service mix will include reception services, telephony, concierge, hosting, VIP lounge, conferencing and event services, along with security being delivered by knowledgeable hospitality professionals as well as integrating the latest guest experience and proximity technology to create a more efficient service.
Adjusting to new market conditions, Bennett Hay has developed a series of new operating efficiencies for its clients as the ramifications of the pandemic continue to evolve in the workplace. Employees have been redeployed and encouraged to multitask between core departmental responsibilities to offer a blend of services and procedures that also provide for catering & hospitality, mailroom, and reprographics.
Bennett Hay is also partnering with progressive workplace technology companies to respond to an on-going pursuit for trackable and experience driven technology that marries lifestyle management in workspace environments. 
Anthony Bennett, Co-founder of Bennett Hay, said: "Many businesses are having to reduce their headcounts in every department. However, it's widely acknowledged that first impressions count and therefore a warm welcome in this climate is an absolute requisite. Our service delivers this and more importantly gives confidence and SIA accreditation ensuring the teams know how to deal with incidents and cover all areas of security whilst offering a hotel style concierge service."
Bennett Hay has grown a roster of high-profile clients in London and the home counties and manages the workplace experience for Landsec, Weil Gotshal & Manges LLP, Here East and Storey Club by British Land.