CIWM (Chartered Institution of Wastes Management) has been awarded a Gold CSR Accreditation from CSR-Accreditation, the leading provider of global social responsibility standards.
The highly regarded CSR-A accreditation is based on the four key pillars of corporate social responsibility – environment, workplace, community and philanthropy.  Its unique approach gives organisations a means to engage, benchmark, measure, report and publicise their CSR initiatives.
CIWM joins a select group of Gold Accredited organisations including Ferrovial Construction, Northumbria Healthcare NHS Foundation Trust, Robert Woodhead Limited and Inmarsat.
Sarah Poulter, Group CEO of CIWM, said: "Being awarded Gold CSR Accreditation is a proud moment for CIWM and a significant milestone in our journey towards achieving our purpose – to move the world beyond waste. It's not simply about what we do, but also the way we do it – living up to our word, putting our pledges and promises into action and enabling and empowering our members to do the same. In doing so, we will make a real, tangible difference to the world we live in, both now and for generations to come. Our journey has only just begun and we will work diligently to maintain this important accreditation and build upon the good that it represents."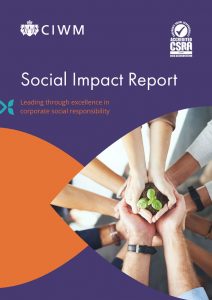 Richard Collins, CSR-A founder and CEO commented: "The independent CSR Accreditation assessment panel were suitably impressed by CIWM's application which clearly showed that their commitment to social responsibility is deeply engrained in the organisation.  Their application demonstrated a comprehensive oversight across the key elements of CSR, and this is closely aligned with their purpose to move to a world beyond waste. We look forward to continuing to support them on their CSR journey."
Social Impact Report
CIWM has also launched its Social Impact Report which details its activity and commitments around the four key pillars of corporate social responsibility. These include a pledge to reach Net Zero, establishing an Equality, Diversity and Inclusion (EDI) working group and the formation of a partnership with WasteAid to share skills and develop sustainable waste management practices in lower- and middle-income countries.
To read the full report click here.