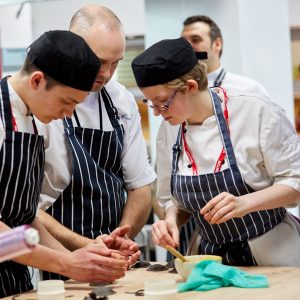 Compass Group UK and Ireland has been crowned 'Hospitality Employer of the Year' at The Trafford College Group's virtual Apprenticeship of the Year Awards 2021.
Compass has been collaborating with The Trafford College Group in Manchester for the last two years, working together to deliver industry-leading culinary and hospitality apprenticeships.
The foodservice giant's win was down to its "outstanding commitment to training and development".
Lola Docherty, Apprentice Business Development Manager – Hospitality, Hair and Beauty at Trafford College Group said: "The College Group's partnership with Compass Group UK and Ireland has worked exceptionally well, with fantastic levels of training, mentoring and support provided for apprentices.
"The apprenticeship programme is flexible and responds well to Compass's requirements, whilst meeting the needs of the business. Apprentices with Compass are fully supported with an extensive training plan and excellent opportunities to enter competitions internally as well as externally, plus great opportunities for progression."
Jonathan Foot, Head of Apprenticeships and Early Careers at Compass Group UK and Ireland commented: "Compass Group UK and Ireland winning an Employer of the Year Award is recognition of the fabulous work we do each day to support our apprentices and help change their lives with the support of our great partners like Trafford College.
"This award means so much more coming during a year that the whole industry has faced such challenging times. We are proud to have continued to support hundreds of apprentices throughout the pandemic to continue to progress and achieve their apprenticeship qualification."