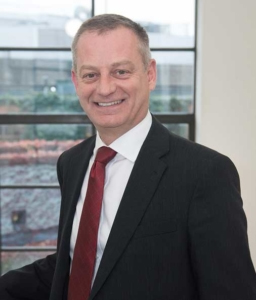 Mike Bullock, CEO of Corps Security, has been appointed a member of the Living Wage Foundation's Recognised Service Provider Leadership Group. The news follows Corps joining the Living Wage Foundation's Service Provider Recognition Scheme earlier this year as part of its drive to improve the pay and living standards of its security officers.
The Leadership Group was set up to influence the FM marketplace around the Living Wage Recognition Programme for service providers, advise on overall strategy relating to the Living Wage and service provider recognition and its promotion in the facilities management and outsourcing sectors.
Up to 20 people can be members of the group serving for a three-year term. In addition to Bullock, who represents the security sector, the leadership group includes representatives from the Institute of Workplace and Facilities Management (IWFM) the Cleaning and Support Services Association (CSSA), Sodexo, ISS, Facilicom and Carlisle Support Services.
The move is part of Corps commitment to raise the standard of pay within the security sector. The organisation has committed to pay all its own head office staff the Living Wage and to always offer a Living Wage bid alongside every market rate submitted to prospective and current clients. This means the client always has the choice to implement the Living Wage at the point of tender and there is a pathway towards the Living Wage for the provider in place. Corps joins more than 140 other organisations which have made the same commitment to champion the Living Wage.
Commenting, Bullock said: "As an organisation which was set up more than 160 years ago to provide employment for service men returning from the Crimean War, we are committed to always providing the highest standard of pay and support to our people. Joining the Leadership Group and representing the security profession is a key part of that journey."
Your free ticket to Facilities Show 2020
Join 12,000+ of your FM peers from across the world at ExCeL London on 08-10 September. Bring the team and boost your CPD, your skills and your career with seminars and workshops at the only IWFM- supported exhibition. Test, trial and source smart solutions across technology, cleaning, FM services, waste and energy management; and meet a host of suppliers for new business collaborations. Your ticket also gives you free access to co-located shows to boost your specialisms across wellbeing, smart buildings, fire, security and health & safety.