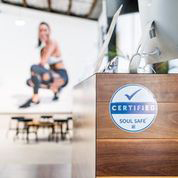 An online employee training and business certification programme that is helping beat Covid-19 in Australia has been launched in the UK.
Soul Safe has arrived in the United Kingdom from Australia to train, educate and certify thousands of UK businesses and their workforces in infection prevention and control, thereby boosting confidence amongst employees, customers and government as lockdown restrictions continue to ease.
The online training company has been at the forefront of infection prevention and control in Australia, which has been hailed as a global success story in suppressing the spread of Covid-19. The virus did not take hold in Australia as feared due to quick shutdown measures, border closures, quarantine of travellers and certified education and training programmes. Australia has reported just over 7,400 cases, far fewer than many nations. It has seen 102 deaths – the last was reportedly a month ago.
The platform provides online training modules and continuing training and support for employees. Training helps businesses ensure they are providing safe and healthy environments for colleagues, suppliers, and customers. Training modules include education on the Covid-19 situation, virus theory, hygiene, and physical distancing measures and how to the workplace safe in a post-Covid-19 environment.
Companies that join Soul Safe can display their certification via applying the official Soul Safe stickered badge at their premises', instilling confidence that they have the necessary health and safety measures in place to welcome their customers and employees safely.
Soul Safe founder Jack Martin said: "Businesses are experiencing the immediate financial benefits of healthy, educated and productive employees, and customers choosing them to spend real money with the confidence that Soul Safe Certification provides. It is quite simple – we need staff at work and consumers spending in the safest way possible to kick start a rapid economic recovery. We are proud to now be rolling this to the UK market, where there is a pressing need for to upskill the workforce without delay."
Major organisations and businesses that have become Soul Safe certified in Australia include trade associations and businesses in the leisure, hospitality, construction, and professional services sectors. The list includes the National Retail Association which represents 28,000 shopfronts, the Heavy Vehicle Industry Australia, Snap Fitness, Mills Oakley Legal, F45, Science of Fitness, and Netball Queensland.