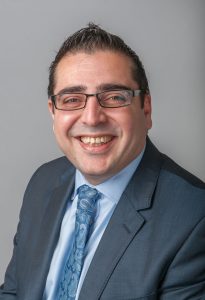 Specialist security and reception services provider, SmartSec Solutions, has appointed a new sales director to accelerate its strong organic growth.
Helmey El-Aasar joins from G4S where he held the position of Director of Strategic New Business Development. He will work alongside SmartSec's operational team and be responsible for taking the company into new sectors such as higher & further education and healthcare. 
SmartSec Solutions has more than doubled its turnover in the past five-years with a consistent 25 per cent year-on-year organic growth. Its strong infrastructure and size enables the company to go out to market and compete for significantly large bids. El-Aasar's role will support this and ensure the company approaches organisations who are willing to work in a partnership agreement and share SmartSec's vision and strong family orientated ethos.
El-Aasar also spent eight-years at Corps Security where, as Corporate Account Director, he was responsible for designing suitable solutions for its security requirements such as manned guarding, front of house, security consulting and security systems.
Commenting on his new appointment, El-Aasar said: "One of the big differentiators with SmartSec compared to other companies is their treatment of their own people. They're fantastic. I think this is the secret of why they do so well because they have got a happy, motivated workforce. When you've got such high morale amongst your team then this is only going to be reflected onto your customer base. I want to be part of something that is going to grow and to help maintain SmartSec's ethos of looking after its own people."
Theo Nicolaou, SmartSec Solutions Managing Director said: "We care about our people and we want our security officers to be multi-skilled and to develop in other areas. Helmey shares this vision with us and we are extremely confident that he will be able to take this messaging to prospective partners within our key corporate sector in addition to new areas such as education and healthcare."
Webinar – Prioritising wellbeing in a Covid-secure workplace
FMJ has teamed up with Zip Water, creator of award-winning sustainable drinking water systems, to discuss the ways in which FMs can safeguard the provision of essential amenities within the workplace as we emerge into a new era of touch-free, socially distanced offices.
During the event, which will feature a panel of leading FMs and an FM services provider, we will discuss how FM professionals, office managers and HR managers can balance the need to manage shared spaces, such as staff kitchens, while maintaining a safe environment and meeting energy and waste reduction targets. This will include a look at some of the latest touch-free technologies; including apps to manage workflow and hands-free automation (e.g. automatic doors, taps etc).
Join us on Wednesday 25th November at 11:00am for an event which will address the ways FMs can meet their commitment to ensure the wellbeing of people as an integral part of their sustainability remit.
To register for the webinar please click here.