Landscaping and maintenance services firm, Ground Control, has reached its goal of achieving carbon neutral certification four years ahead of schedule.
Certification by the Carbon Trust followed a detailed analysis of Ground Control's carbon emissions and illustrates the company's commitment to fight climate change.
Carbon neutrality has been achieved by reducing carbon emissions through a combination of in-house efficiency measures and the use of renewable energy, and offsetting remaining emissions through external projects.
Ground Control CEO Simon Morrish commented: "We are delighted to have beaten our initial target of becoming carbon neutral by 2025. With the help of the Carbon Trust, we calculated our carbon emissions in our operations, which has helped us to identify where we can do more in the future.
"We strive to improve our sustainability but there are emissions we can't avoid, so we purchased verified offsets such as tree planting and renewable energy production through wind and solar to compensate for these inescapable emissions."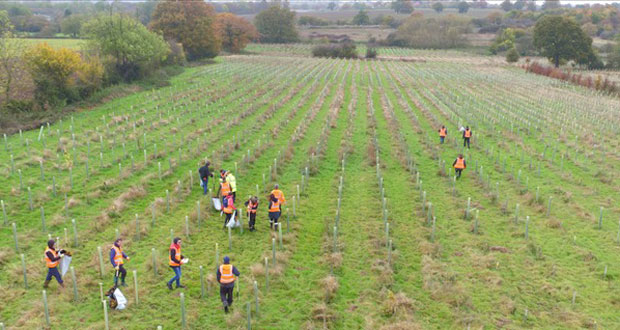 The Carbon Trust's assessment revealed a significant share of the company's emissions use came from fuels used to operate its vehicle fleet and equipment, together with the energy required to run its offices, depots and facilities.
In response, emphasis will continue to be made on lowering energy use in the company's field operations and offices, in particular:
Electric vehicles – all company cars will be converted to EVs within the next two years. A review of the commercial fleet is also underway with plans to eliminate the use of higher emission vehicles as soon as possible.
Battery-powered tools –  along with trialling and using battery-operated tools in several services, it's committed to converting to 100 per cent battery-powered hand tools for all work by 2025.
Renewable energy – green energy suppliers will be used for heating and powering of offices – landlords and employees are encouraged and incentivised to do likewise.
Tree Planting – several tree-planting projects with partners and clients have already been undertaken, and it's hoped additional projects will emerge to help offset future unavoidable emissions
To ensure the company's ambitious growth strategy is aligned with its environmental commitments, Cambridge University's Institute for Sustainable Leadership is reviewing Ground Control's wider environmental strategy. Later this year it will publish a five-year plan, focusing on client and supply chain engagement together with establishing science-based targets to help the transition to becoming net zero.
Ground Control Managing Director Jason Knights said: "The carbon neutral certification is recognition of the hard work we're doing to improve our environmental performance and drive long-term, sustainable growth. Our growth plans must be aligned with our commitment to the environment so that we can continue not only to reduce carbon emissions but also reach our ultimate goal of net zero emissions."
Hugh Jones, Managing Director at the Carbon Trust Advisory said: "The Carbon Trust is pleased to have certified Ground Control to PAS 2060, demonstrating carbon neutrality of its organisational footprint. This is a positive step in Ground Control's sustainability journey and we hope it will encourage the company and its stakeholders to take further steps to raise the bar and ultimately build a net zero future."