As the return to work gathers pace, Grundon Waste Management has launched a new cleaning service aimed at helping businesses ensure their premises are safe from the Covid-19 virus.
Targeting everything from reception areas to offices, door handles to lift buttons, washrooms to kitchens; the specialist deep cleaning and sanitising service ensures areas are safe and ready to use within just one hour.
The cleaning process uses a proven treatment which kills both viruses (including all members of the Coronavirus family, including Covid-19, SARS and MERS) as well as 99.9% of bacteria and fungi.
Andy Stratton, from Grundon's Industrial Cleaning Services team, said: "The health and safety of employees, customers and other visitors must be paramount for all businesses and we know it will often fall under the remit of the facilities management team.
"Our new service guarantees peace of mind that any workplace will be safe, clean and ready to use, allowing FMs to reassure anyone coming into their premises that they are doing everything possible to eliminate the risk of spreading infection. If required, we can also schedule repeat cleaning services for high-traffic areas."
Initial virtual site surveys using photos and videos, together with a full RAMS (Risk Assessment and Method Statement) will enable the Industrial Services team to put a plan in place.
Once agreed, the cleaning and treatment process combines vaporised directional spraying and micro-fibre wiping, using a disinfecting sanitiser with active biocides that actively eliminate an extensive list of viruses, bacteria, fungi and moulds.
All necessary social distancing measures will be adhered to and full PPE (personal protective equipment) will be worn during the cleaning process, with certificates of deep cleaning and reporting provided when the work is completed.
The fully-qualified and licensed Grundon team has built up in depth expertise of the cleaning sector over the last 40 years and works in a wide variety of sectors, including healthcare, education and manufacturing.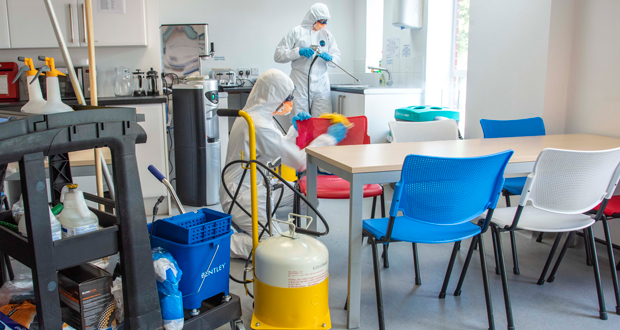 Your free ticket to Facilities Show 2020
Join 12,000+ of your FM peers from across the world at ExCeL London on 08-10 September. Bring the team and boost your CPD, your skills and your career with seminars and workshops at the only IWFM- supported exhibition. Test, trial and source smart solutions across technology, cleaning, FM services, waste and energy management; and meet a host of suppliers for new business collaborations. Your ticket also gives you free access to co-located shows to boost your specialisms across wellbeing, smart buildings, fire, security and health & safety.