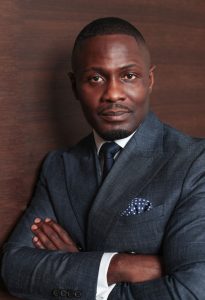 Tevin Tobun, CEO of GV Group (Gate Ventures), a multi-sector company focusing on food logistics within the education, social, healthcare, business & industry and retail sectors, has been named as one of the 100 most influential Black Britons for the third time.
Featured alongside the likes of Formula one driver Lewis Hamilton, footballer Marcus Rashford, actor Michaela Coel, and Windrush lawyer, Jacqueline McKenzie, Tobun is the only person from the hospitality sector to be named in The Powerlist 2021.
The 'Powerlist', an annual publication first published in 2007 in a bid to provide professional role models for young people of African and African Caribbean heritage, has become one of the UK's most prestigious networks – bringing together leading figures from the business, political, sports and entertainment worlds.
The publication is shared with schools, universities and corporations looking to inspire and engage young people in Britain.
This year, Tobun launched The Tobun Foundation, an organisation aiming to offer educational support to young people from disadvantaged backgrounds.
Alongside this, Tobun is currently a council member at The Open University, was on the board of Middlesex University, and is a lifetime patron of hospital charity Springboard. He is also chair of Inspirational You, which provides guidance to people of BAME background starting out in business through a range of initiatives, such as work experience, mentoring and business workshops.
Tobun said: "It is once again an honour to be named on this list, especially during what has been a very challenging year for so many people.
"This list is a great way to inspire young people across the country and encourage them to be the best version of themselves.
"From a personal perspective, these accolades are always wonderful but the truth is, we have a lot of work to do to continue to support, mentor and inspire young people who face so many societal barriers to success."  
Webinar – Prioritising wellbeing in a Covid-secure workplace
FMJ has teamed up with Zip Water, creator of award-winning sustainable drinking water systems, to discuss the ways in which FMs can safeguard the provision of essential amenities within the workplace as we emerge into a new era of touch-free, socially distanced offices.
During the event, which will feature a panel of leading FMs and an FM services provider, we will discuss how FM professionals, office managers and HR managers can balance the need to manage shared spaces, such as staff kitchens, while maintaining a safe environment and meeting energy and waste reduction targets. This will include a look at some of the latest touch-free technologies; including apps to manage workflow and hands-free automation (e.g. automatic doors, taps etc).
Join us on Wednesday 25th November at 11:00am for an event which will address the ways FMs can meet their commitment to ensure the wellbeing of people as an integral part of their sustainability remit.
To register for the webinar please click here.