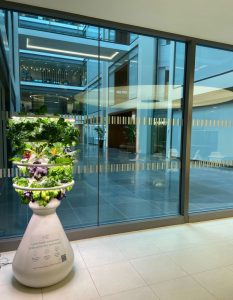 Incentive FM has recently introduced a Farmstand at Addleshaw Goddard's London office.
As part of their joint engagement and wellbeing strategy the international law firm is encouraging its employees to make use of the Farmstand – a self-watering hydroponic system which grows ultra-fresh produce all year round. 
Created by Square Mile Farms, the Farmstand will provide Addleshaw Goddard employees with access to 24 edible plants. The company believes that the availability of such fresh produce will create a platform for engagement around wellbeing, sustainability and community for its staff.  Incentive FM will be organising a range of engagement services, which include guided harvest sessions as well as workshops, seminars and team-building days on topics from food system sustainability to growing at home and nutrition.
Edward Hinton, National Account Manager for Incentive FM at Addleshaw Goddard, said: "Sustainability and ESG-related risk and opportunity is already very high on the agenda for many of the companies that we work alongside. When we suggested a Farmstand for our client at the London office they were delighted, and so far, it's been a huge success. It provides a focal point for employees and encourages them to discuss potential sustainability initiatives." 
Bruce McDonnell Managing Director at Incentive FM, commented: "Engagement and wellbeing is of paramount importance to many of our clients, especially while employees are navigating the return to the office environment after the Covid-19 pandemic. We're working in partnership with Addleshaw Goddard to find imaginative solutions for employee wellbeing, and sustainability related business challenges. We're thrilled to be introducing such a fantastic initiative within their London office."
The Farmstand is made from ocean bound plastics. On average each stand saves 74 milk jugs from polluting our oceans and the plastic is sourced from coastal communities that lack recycling initiatives. The internal reservoir reclaims water for the next watering cycle and provides fresh produce all year round growing edible plants, indoors without soil.
To find out more on the benefits of installing farms in offices, read FMJ's recent article with Patrick Dumas Co-Founder at Square Mile Farms on why he thinks every office should have a farm and how it could be a great way to pull people back into the workplace.
Webinar: Now hiring! Overcoming the challenges of recruiting for soft services.
Recruiting for soft FM services is proving more difficult in the post-Covid workplace. So, what can FMs do to overcome this?
Sara Bean, Editor of FMJ, and Jess Pritchard, Head of Corporate Sector at Moneypenny are joined by panellists:
Mark Whittaker, General Manager, Thomson FM & Chair of IWFM
Ian Wright, Soft Services Manager, University College London
David Bauld, Group Facilities Manager, Paradigm Housing
Nicola Lathbury, Managing Director, Hexagon FM
Together they will discuss the current skills shortage in a number of FM areas, ways to keep staff engaged in their job through brilliant culture, and how outsourcing could be a solution to the recruitment issue. Secure your place now for Thursday, 25th November at 11am.
To register click here.