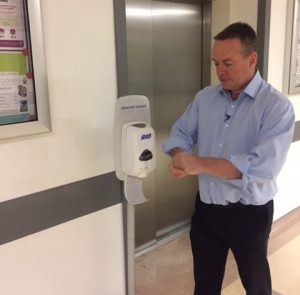 ISS UK & Ireland's CEO, Matthew Brabin has won the title of 'Overall CEO Winner' in the British Safety Council 2020 International Safety Awards (ISA).
Brabin was chosen from over 500 organisations from across the globe in recognition of his leadership and commitment to keeping workplaces and employees healthy and safe. 
His vision and active engagement to embed safety at the core of the ISS strategy and culture drew particular attention. During his tenure he has seen ISS UK's ISA wins increase from one merit award in 2015 to 30 ISA Awards in 2019, two of which were at 'Distinction' level.
Commenting on his achievement, Brabin said : "I'm honoured to receive the award on behalf of everyone at ISS UK & Ireland as this endorses the recognition that people create the achievement behind the numbers. Overall, our success is the product of the commitment of every one of our great people, and is a result of collaborative working with core members of the ISS Senior Leadership team such as Tim Proctor, HSEQ and CR Director."
Proctor commented: "In ISS we hold health and safety as a core strategic pillar. It's our constant mission and one I am proud to spearhead with a highly committed team using a range of strategic and tactical approaches.  As just one example, we held a Safety Stand Down campaign to reduce the increase in accidents which historically occurred in the return to work after the Christmas break. Therefore, on the first day back, every manager across the business was tasked with communicating the need to be in 'work mode' and the importance of personal safety. Consequently, we measured a notable drop in incidents from the previous year."
Brabin continued: "At ISS, we all show our commitment by example and I'm no exception. As CEO I have a Personal Safety Action Plan which is published and displayed across the company. This sets out my own personal commitments to ensure that safety is at the heart of our organisation and culture. From the simple act of always holding a handrail when on the stairs, through to consciously stopping any unsafe act I see. The use of and commitment to personal safety plans is stringently adopted by all managers within the business.
"In ISS our HSE Vision 100 aims for us to be Number One in our industry with 0 fatalities at our workplaces and 0 serious incidents by continuously improving the safety culture for Everyone in our organisation in Everything they do, Everytime that they do it."
Your free ticket to Facilities Show 2020
Join 12,000+ of your FM peers from across the world at ExCeL London on 08-10 September. Bring the team and boost your CPD, your skills and your career with seminars and workshops at the only IWFM- supported exhibition. Test, trial and source smart solutions across technology, cleaning, FM services, waste and energy management; and meet a host of suppliers for new business collaborations. Your ticket also gives you free access to co-located shows to boost your specialisms across wellbeing, smart buildings, fire, security and health & safety.