The pioneering 'ServicePoint' Solution' developed and delivered by ISS has been recognised at the annual O2 Blue Door Awards 2020. 
The ISS 'ServicePoint' solution won the category: Use of technology to connect with customers. The accolade reflects the ISS strategy to use facilities management as an enabler to connect people and places to make the world work better.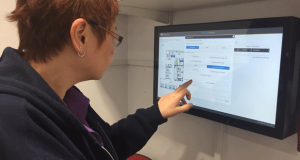 The winning entry provides significant time savings – equivalent to 190+ clinical shifts for healthcare clients- which allows hospitals to effectively redirect resources to patient care. ServicePoint achieves the substantial efficiencies by seamlessly connecting clinical staff to their ISS service teams, providing access to catering, cleaning, portering and other support services at the touch of a button.
Will Cohen, Group IT Director, ISS UK commented: "We're delighted to gain this digital award which recognises the strength of our technology innovations to support our customers purpose. Improving connectivity of people and places for our customers and their stakeholders in all business sectors is a fundamental element of our services. With our winning solution, it is fantastic to see this recognised as a leading example of smart technology and strong customer purpose working hand in hand to innovate and improve our FM delivery."
The O2 digital partnership supports the success of ServicePoint. The touchscreen devices used by clinical staff to liaise with ISS services use O2 to provide the cellular connectivity to front-line staff mobile devices, and where needed, connectivity to the ServicePoint devices.