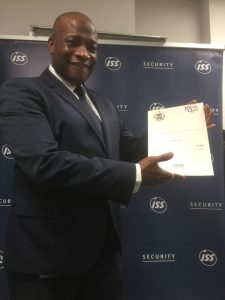 ISS Security has seen 38 of its guards graduate in Q3 2020 with a new police-endorsed qualification.
The ISS Security business worked with the Police Crime Prevention Academy (PCPA) to develop the new course -The Prevention of Extremism and Terrorism – which is endorsed by the Office of Qualifications and Examinations Regulation (OFQUAL).
The Level 3 OFQUAL endorsed course provides additional skills to allow security personal to deliver peace of mind for clients and ultimately, our communities. The qualification provides a level of 'future-proofing' as it is aligned with government plans to introduce a 'protect duty' law that will require owners and operators of public spaces and venues to keep the public safe from terrorist action.
The course provides ISS guards with a high degree of expertise to quickly identify potential threats and to protect people and places.
David Beveridge Security Manager, ISS Security said: "We see this qualification as another step towards the creation of a professional and highly qualified security guarding service. My team will now have a greater knowledge of the potential threats we face, early identification of such threats and what they need to do to mitigate such threats and assist the police."
The course was designed by the UK police-owned Police Crime Prevention Initiatives, the established supplier to the UK police service for crime prevention learning & development.

Head of the Police Crime Prevention Academy, Guy Collyer said: "I see this as a valuable collaboration between the police and the private security sector. We all share common goals and should be working more closely together, so that each party clearly understand the others role and where boundaries can be clearly set."