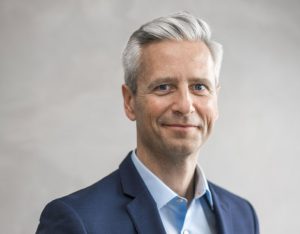 JLL has announced that its EMEA CEO Guy Grainger will move into a new role as Global Head of Sustainability Services & ESG with effect from January 1, 2021.
The new senior role reflects the company's ongoing strategic focus on expanding its already substantial sustainability services capabilities.
Grainger has led the EMEA region since June 2016, also serving as a member of JLL's Global Executive Board.  Prior to that, he was CEO of the UK business between 2013 and 2016, having originally joined as a senior leader of the Churston Heard business acquired by JLL in 2008.
Speaking about the appointment, JLL CEO, Christian Ulbrich said: "JLL is committed to playing a leading role in shaping the future of real estate for a better world. Central to that purpose is using the breadth and strength of our global platform to partner with our clients in truly moving the needle on real estate carbon reduction and sustainability.  We see this both as a massive growth opportunity and a primary corporate responsibility.  Guy Grainger is ideally qualified to lead this major strategic growth initiative, and we are delighted he has accepted the challenge."
JLL's carbon reduction and sustainability business already provides a full range of services from corporate and portfolio advice on targets, reporting and policies, through to the design, management and operation of sustainable buildings.  Earlier this year, the company announced ambitious new goals for its own operations including a science-based target for carbon reductions and a commitment to achieve net zero carbon emissions in its own buildings by 2030.
Grainger said: "Our strategy to decarbonise real estate through sustainability products can deliver ground-breaking results for clients, significantly improve the environment, and be tremendously inspiring for our people in the process.  I have greatly enjoyed the past eight years as CEO for the UK and then for the EMEA region.  I will now use that invaluable experience to help create a better world through our services."
Grainger will continue to be based in London, with overall responsibility for sustainability services, products and strategy, and for JLL's 'Building a Better Tomorrow' program which includes its annual sustainability reporting and targets.
His successor as EMEA CEO will be announced later this week.
Webinar – Prioritising wellbeing in a Covid-secure workplace
FMJ has teamed up with Zip Water, creator of award-winning sustainable drinking water systems, to discuss the ways in which FMs can safeguard the provision of essential amenities within the workplace as we emerge into a new era of touch-free, socially distanced offices.
During the event, which will feature a panel of leading FMs and an FM services provider, we will discuss how FM professionals, office managers and HR managers can balance the need to manage shared spaces, such as staff kitchens, while maintaining a safe environment and meeting energy and waste reduction targets. This will include a look at some of the latest touch-free technologies; including apps to manage workflow and hands-free automation (e.g. automatic doors, taps etc).
Join us on Wednesday 25th November at 11:00am for an event which will address the ways FMs can meet their commitment to ensure the wellbeing of people as an integral part of their sustainability remit.
To register for the webinar please click here.