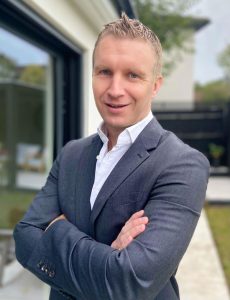 Commercial contract cleaning firm, Julius Rutherfoord & Co (JR&Co), has appointed Chris Jarvis to the role of Managing Director.
Jarvis joined the firm as Chief Financial Officer in 2018 and he has been instrumental in developing the quality of the finance, IT, and HR teams within JR&Co, along with ensuring the ongoing growth and profitability of the business.
As the Covid-19 pandemic swept through the world, Jarvis was at the forefront of JR&Co's client collaboration approach, developing a flexible service that provided clients with outstanding hygiene and sanitisation services whilst also enabling them to manage budgets and offset costs that would have potentially been hard to bear. In developing this approach, JR&Co ensured the retention of most clients, grew offers into clients and exited the pandemic in a buoyant manner.
Jarvis is a chartered accountant, having trained with PwC and subsequently holding senior finance roles at publicly listed businesses Gartner, Rackspace, G4S and finally private equity backed Clean Linen Services Ltd before joining JR&Co three years ago.
As Managing Director, he takes on full responsibility for achieving the growth targets that the business has set, along with working alongside the Operational Board to continually improve the quality of the offer that is delivered daily.
Commenting on his new appointment, Jarvis said: "I am thrilled to have been promoted to the role of Managing Director of Julius Rutherfoord. Having been with this great company for three years, I understand the details that are critical to success. I now look forward to leading a winning team and applying my two decades of technology and outsourced services experience to focus on innovation, customer success and operational excellence in order to deliver value to our growing customer base."
Six steps to facilities management in the post-pandemic world
As workplaces open up and restrictions lift the role of the FM has become more important than ever.
The challenges presented by the Covid-19 pandemic are now providing a valuable opportunity for FMs to demonstrate their skills and adaptability. Whilst on a practical level FMs are responsible for making buildings safe and comfortable, they are also crucial in attracting people back to the office.
In speaking with industry leaders, it is clear that there are six key areas of focus. Zip has published a white paper which looks at each one, suggesting ways that facilities managers can tackle the complexities and pace of a return to the workplace, whilst demonstrating clear and effective leadership along the way.
To find out more download the white paper here.