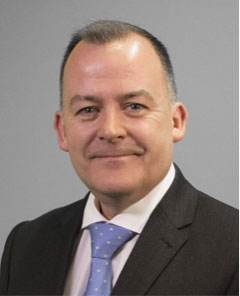 Andrew Smart has been appointed Head of FM Consultancy within Mace's facilities management business, Operate, and will lead the business's growth plans globally, solidifying its role in workplace experience management.
The appointment follows the publication of Mace's 2026 strategy, outlining ambitious plans for the next five years as a purpose driven business, setting bold sustainability targets.
Smart, who has vast experience in the industry having previously held roles at CBRE, Cushman and Wakefield, and Sodexo, rejoins Mace's Operate business after 10 years away. As Head of FM Consultancy, he will grow and develop the global consultancy team and the service offer in line with Mace's strategy, to adopt new technology and approaches that focus on creating the best possible end-user experience in the most sustainable and effective way.
Speaking about his new role, Smart said: "I am delighted to rejoin Mace at a crucial time of growth, helping clients to transform their workplace experience and driving optimised and sustainable solutions for global corporate occupiers.
"Mace's Operate business already has an enviable reputation as a long-standing partner of choice for some of the world's biggest brands. I am excited about the opportunity to build on this and to drive our Facilities Management Consultancy business to be the leading provider of intelligent solutions and advisory services to clients across the globe."
Ross Abbate, CEO for Operate, said: "At such a crucial time for the facilities and workplace industry I am delighted to welcome Andrew back to Mace, where his work will be paramount in growing our service offer and supporting our ambition to deliver exceptional experiences for our workplace clients.
"Andrew and the FM consultancy team are a crucial part of the workplace management journey, and with their combined experience I've no doubt Mace's Operate business will be one step closer to being an industry leading workplace provider."
Smart is a respected thought leader across the FM and workplace industry and has featured as a regular in various industry events. In 2017, Andrew  was recognised by the Institute of Workplace and Facilities Management (IWFM) for his work, receiving the 'Leader of The Year' award at its annual ceremony.