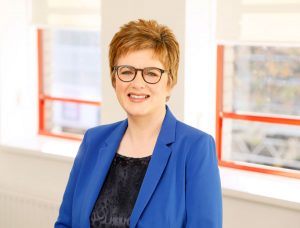 Margot Slattery will join ISS World Services (ISS) as new Global Head of Diversity & Inclusion, from 1 May 2021.
Highly experienced in the facility management world as well as within diversity and inclusion, Slattery joins ISS from Sodexo Group, where she has worked since the early 1990s, most recently as Global Chief Diversity & Inclusion Officer. Prior to that, she was Country President for Sodexo in Ireland from 2015 to 2019.
Commenting on Slattery's appointment, ISS' Chief People & Culture Officer, Corinna Refsgaard said: "With a total number of nearly 400,000 employees worldwide, ISS has an important responsibility to carry on our strong heritage of fairness, inclusion, equality and diversity. Margot's longstanding commitment to diversity and inclusion has earned her many accolades over the years and I look forward to working with her to build an even stronger, diverse, and inclusive ISS."
Born in Ireland, Slattery was one of the key contributors to the country's Same-sex Marriage Act, particularly in the business sphere. She also critically promoted and participated in the Diversity Charter. Her longstanding commitment to diversity and inclusion has earned her awards like the Knight of the National Order of Merit and Business Leader Award, amongst others. She was also recognised in the Financial Times' Top 100 OUTstanding LGBT Business Leaders for four years in a row.
On joining ISS, Slattery said: "This is a tremendous time of change in the world when companies greatly influence our shared future. I am delighted to help shape that future with ISS as a leader of positive change. I look forward to building from ISS core values towards a more diverse, inclusive and equal world."