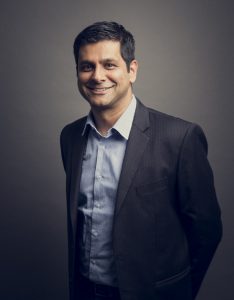 Mitie has appointed Pradyumna Pandit to the newly created role of Managing Director of Sustainability and Energy Services.
Pandit has over 20 years' experience in the engineering and technology sector, working in a number of roles, ranging from new business development to operations, and brings a wealth of knowledge and expertise in energy management and optimising building efficiency.
He joins Mitie from Schneider Electric, where he served as Vice President of Digital Energy for UK & Ireland, responsible for developing energy management and optimisation services. Prior to this, Pandit worked for The Tata Group and Honeywell Building Solutions, where he held commercial and operational roles for advanced software engineering services, covering the manufacturing and construction sectors.
In this newly created role, Pandit will be responsible for developing and coordinating all of Mitie's Energy and Sustainability services and solutions, such as the procurement, control and reduction of energy consumption, decarbonisation of heating and transport components in the customer's premises, and carbon reporting and compliance. The role will support Mitie's Plan Zero sustainability commitment to achieve net zero carbon emissions by 2025, including using its carbon elimination expertise to help clients achieve their own net zero targets.
Commenting on the appointment, Carlo Alloni, Managing Director, Technical Services and Integrated Facilities Management, Mitie, said: "Pradyumna brings a wealth of experience in building optimisation and energy management that will help us stride further towards our sustainability ambitions. The next decade will be critical, as businesses and governments look to tackle the climate emergency in the wake of a global pandemic. By sharing our expertise and supporting the uptake of sustainable solutions, we can support our customers as they strive for a green recovery."
Pandit, added: "As a business with some of the UK's most ambitious sustainability commitments, I am proud to be joining Mitie as it delivers on its Plan Zero pledge to reach net zero by 2025. By leveraging our expertise and zero carbon technologies, I look forward to collaborating with customers to achieve their own carbon emissions targets, working together to tackle the climate crisis."
Your free ticket to Facilities Show 2020
Join 12,000+ of your FM peers from across the world at ExCeL London on 08-10 September. Bring the team and boost your CPD, your skills and your career with seminars and workshops at the only IWFM- supported exhibition. Test, trial and source smart solutions across technology, cleaning, FM services, waste and energy management; and meet a host of suppliers for new business collaborations. Your ticket also gives you free access to co-located shows to boost your specialisms across wellbeing, smart buildings, fire, security and health & safety.