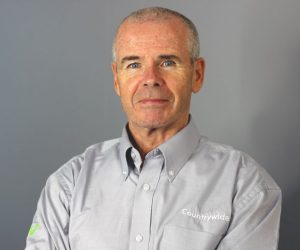 Countrywide Grounds Maintenance has appointed Paul McKeown as its new Managing Director to provide strategic leadership and growth for the UK-wide business.
Responsible for managing the nationwide network of 46 regional offices covering the whole of England, Scotland and Wales, McKeown will support the growth and expansion of the brand. As part of his remit, he aims to provide an enriched support service for the regional offices, enabling them to expand their business, whilst providing the best professional solution for their customers.
McKeown has worked in the grounds maintenance sector for over four decades, holding a number of high-profile positions. Before joining Countrywide, McKeown held the role of Managing Director at phs Greenleaf, where he directed multiple operational processes of the group's portfolio. Prior to this, he worked at Flora-Tec as UK Operations Director.
Speaking on his appointment, McKeown said: "In recent years, Countrywide has achieved significant growth in the grounds maintenance sector and we now have full nationwide coverage across the whole of the UK.  We are hugely proud to deliver a dedicated grounds maintenance service using regionally based teams with local knowledge, who really care about the communities they live and work in.  We believe that a local workforce provides a boost to the local economy, as well as reducing both carbon footprint, local transport costs and downtime. 
"I am thrilled to have the opportunity to lead a company with exceptional people who make a difference every day for our customers and the communities we serve.  I look forward to continuing to grow our strong operational and financial performance, whilst creating an environment that keeps our customers, communities and employees safe." 
Countrywide has been delivering grounds and property maintenance solutions to commercial customers since 1986. Working across a range of sectors including education, retail, social housing, sports & leisure, utilities and healthcare, the business provides commercial grounds maintenance, arboriculture services, landscape construction, winter maintenance and commercial site cleansing to over 10,000 sites annually across the UK.