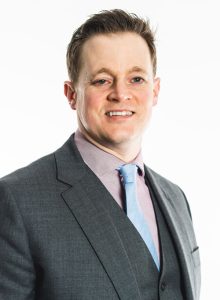 Justin Galliford has been named as the new Chief Executive Officer of Norse Group.
The appointment was made by Dr Andy Wood OBE, DL, who became Chair of the Norse Group back in January.
Wood said: "Justin has been with the company since 2006 and in that time has seen the organisation change and grow.
"The Board felt strongly that Justin's knowledge and experience within the Group made him absolutely the right person to lead the next phase of the company's success. Last year the turnover was £339 million, and the Group is highly regarded as one of the largest local authority trading companies in the UK, with over 10,000 employees nationally.
"Improving people's lives is at the very heart of what we do at Norse, and I look forward to working with Justin to evolve and develop the organisation's culture and values in the coming months. I am confident he will continue to deliver an outstanding service for our employees, clients, and the communities we serve, who remain essential to our ongoing success."
Following his appointment, Galliford said: "I am delighted by the Board's decision to award me the role of Chief Executive Officer. I joined Norse with the NEWS (Norse Environmental Waste Services) operation in 2006 and have held several management roles since, most recently being Chief Operating Officer for the commercial, facilities and environmental side of the business until taking on the interim CEO role in November 2021.
"I am dedicated to how the Group delivers sustainable and ethical partnerships with our partners and am keen to keep evolving our model and approach to benefit Norse and the communities in which we work."
Cllr Andrew Proctor, Leader of Norfolk County Council and Board Member of Norse Group, added: "The appointment of Justin as the new Chief Executive Officer is excellent news for Norse Group and for our county as a whole: Justin has a long history of working in and for Norfolk and brings that local knowledge as well as his professional experience to the role. Norse Group provides services and support that touch the lives of many people in Norfolk, and by making sure we have the right leadership in place, I am confident that we are ensuring that Norse continues to deliver vital services right in the heart of our communities."
Your free ticket to Facilities Show 2022
Join thousands of your FM peers from across the world at ExCeL London on 17-19 May.
Bring the team and boost your CPD, your skills and your career with seminars and workshops. Test, trial and source smart solutions across technology, cleaning, FM services, waste and energy management; and meet a host of suppliers for new business collaborations.
5 Shows. 1 ticket.
Your free ticket to Facilities Show gives you unlimited access to four other co-located events, meaning you have a unique opportunity to enhance your facilities management strategy with products and solutions from across facilities management, security, fire protection & prevention, intelligent buildings and health & safety.