Interior design consultancy, Office Principles, has completed work on the new London offices of law firm, Hamlins, at the iconic One Kingsway, a mixed-use 1920s building on the corner of Aldwych and Kingsway in Midtown.
Hamlins relocated from Regent Street, where it was based for 40 years, to facilitate a move to a more modern and flexible workspace which supports its new hybrid working model.
Office Principles has delivered a multipurpose workplace across 6,571 sq. ft of office space using innovative design to support Hamlins' working practices.
Its revamped reception space leads to two distinct zones, each designed to create a tailored and comfortable experience for staff and clients.
Staff areas are characterised by collaborative open plan office spaces, complemented by focused areas for independent working. The flexible use of furniture allows each area of the workspace to serve multiple functions, with a combination of hotdesks, sit stand desks, workbenches and high level tables which cater for project work, touchdown meetings, events and buffet lunches.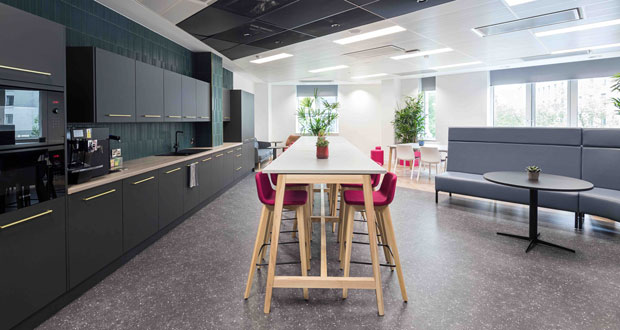 Meeting spaces are equipped with full AV capabilities, with a drop-down green screen and high-definition camera for webinars and podcast recording.
There is lockable storage for employees, promoting flexible working practices, as well as a wellness room, breakout areas and refreshment points with disabled access.
The client suite offers an opulent business lounge experience, informed by specialist acoustic consultancy. It features a media wall with an interactive exhibit highlighting the expertise and client base of the firm, and benefits from slab-to-slab partitions to ensure privacy.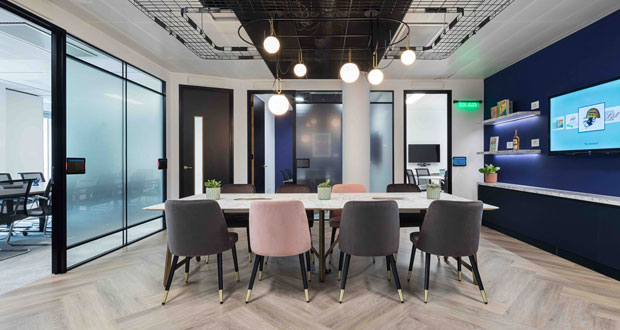 Biophilia is used throughout the workplace and there is plentiful natural light with views of The Strand.
In addition to its delivery of the office refurbishment, Office Principles supported Hamlins in sourcing its new London premises and was commissioned to deliver a workplace consultancy project which engaged staff representatives from across the firm and helped determine the final design brief.
Matthew Pryke, Managing Partner at Hamlins, said: "We set out to identify a new, modern, workplace which would meet the needs of our staff and clients, now and into the future. This project has primarily been about creating a fantastic working environment for the Hamlins team and our clients to work in, which also offers the flexibility required to support our hybrid way of working.
"Office Principles were involved from the outset, providing a holistic solution and supporting us the whole way through the process. We established a great rapport with the team who were on hand to answer our questions throughout."
The project team included Story Projects, Mesh Construction Consultants and Hann Tucker Associates.