A poll conducted by ISS UK during 'Lockdown 3' found that 67 per cent of respondents missed social engagement when working from home during the Covid lockdown periods.
According to the facility services company, the impact on workspace management will be a focus on flexible space geared toward collaborative workspaces, rather hot desks for focused work time.
Will Richards, Head of Workplace Experience commented: "OurResearch – and that of others – indicates a new approach for the post-Covid workplace experience – especially for those who've been working from home the last 12 months.
"Every aspect from talent attraction and retention will benefit from a more flexible user experience."
Over 1,000 people responded to the poll which was conducted between December 2020 and March 2021. Other key findings include:
More than half (59 per cent) of participants were in favour of continuing to work from home for 60 per cent of their time.
Over two-thirds (67 per cent) of poll respondents cited time with colleagues as the factor they missed most about their workplace.
Whilst 40 per cent stated they're keen to return to the workplace, almost the same percentage (38 per cent) said they're in no rush to return to the workplace as they're as productive at home.
Flexible work arrangements would persuade half (56 per cent ) of respondents back to the workplace.
Forty-seven per cent found they had an improved work/life balance.
More than half (54 per cent) felt their organisation responded well to the challenges of the pandemic.
Forty-one per cent cited wellbeing as the primary factor to make them happier/more productive in the workplace.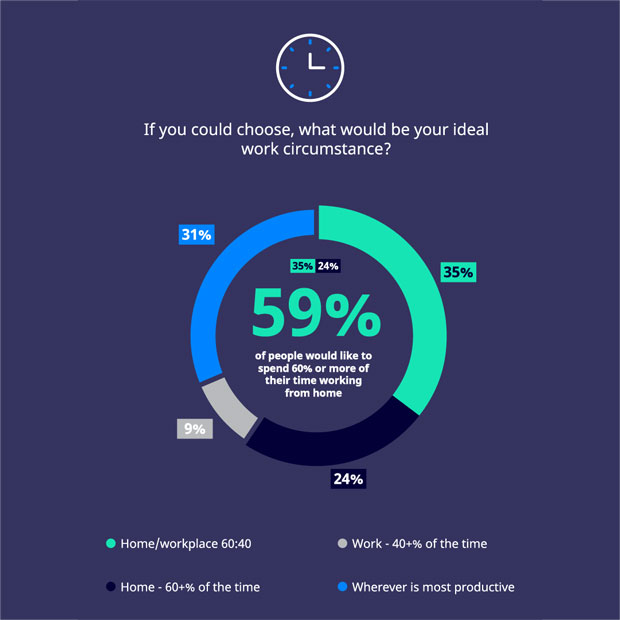 Richards concluded: "Every touchpoint in the workspace is an opportunity to deliver innovation in flexibility, support and engagement for employees. The next 12-18 months is going to be a transition phase to implement Best Practice in workplace experience and allow organisations to keep their people connected with their workplace, organisational culture and brand."
For insights on the importance of the workplace experience in talent management, click here.