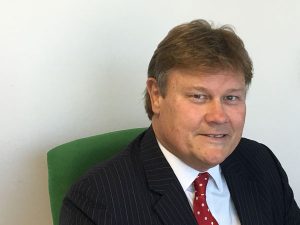 Robin Brodie Cooper, Equity Partner and Director at Gleeds, has been elected as President of the British Council for Offices (BCO) with immediate effect.
Mark Kowal, Partner at Sheppard Robson, has been appointed as Senior Vice President, and Despina Katsikakis, Executive Partner at Cushman & Wakefield, joins the BCO's Board of Management as Junior Vice President.
The appointments come at an important time for the office industry, with the pandemic causing a reassessment of how many of us work. Under Brodie Cooper's Presidency, the BCO will champion the importance of the office and highlight how the sector can adapt to new ways of working and provide the best possible environment for those working in offices.
Brodie Cooper was due to be Chair of last year's BCO Conference but will now be Chair of a virtual – or partly virtual – Conference later this year, exploring the future of the post-Covid workplace.
Having previously been the BCO's Senior Vice President and, prior to that, long-time Treasurer, Brodie Cooper has deep experience of the office industry. His first role in the sector came with Gleeds almost 35 years ago, and he has since risen to become an Equity Partner and holds numerous Directorships within Gleeds.
Recently, Brodie Cooper has focused on the commercial aspects of the City of London. He has worked on delivering 52 Lime Street (also known as The Scalpel) and 10 Fen Court, celebrated for its rooftop public garden. Brodie Cooper also continues as Honorary Treasurer of The City Architecture Forum.
Brodie Cooper succeeds Paul Patenall, Projects Director at U+I.
Brodie Cooper said: "Some months ago, many people predicted the end of the office. They were wrong. Workers across Britain have missed the professional, social and creative benefits of office working. Young people have been particularly hard hit.
"While the pandemic represents the biggest challenge our industry has ever faced, it is also an opportunity to reset, transform and improve. As an industry, we have the talent, ambition and application to do so.
"I look forward to the BCO being at the forefront of this change. I am incredibly proud to be President, and thank Paul for his tireless and important work. He will be a hard act to follow."
Richard Kauntze, Chief Executive of the BCO, said: "In what is arguably our industry's most important year, I am delighted to have Robin as our President. His experience, insight and expertise will be invaluable to the BCO and its members during this time. I sincerely thank Paul for his excellent work; his Presidency leaves a fantastic legacy."
Despina Katsikakis joins the BCO Board of Management for the first time. A highly respected industry expert, Katsikakis has spent 35 years focusing on workplace innovation, research, and the implementation of transformative business environments and real estate developments. Prior to joining Cushman & Wakefield, Katsikakis held senior positions at Barclays, AECOM and DEGW.
Mark Kowal, formerly Junior Vice President of the BCO, has 25 years' industry experience across all aspects of office design, including speculative and headquarters buildings and covering both new-build and refurbishment solutions.