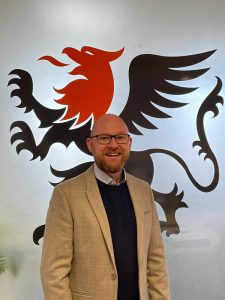 The Leeds-based multi-service provider has appointed its first CEO, as it forecasts a £20 million turnover in the next two years.
Servo Group, which looks set to hit a £12 million turnover this year, just seven years after its inception, has appointed Andrew Mcallion as its CEO as it prepares to undergo rapid expansion and take on more employees.
Mcallion has been Accounts Director for Servo Group, which has over 800 operatives working nationwide across its divisions, for the past two years. Previously he has held senior leadership roles in Operations at Comandulli, and Breton Machinery.
In his new role, Mcallion will guide Servo to its next phase of growth, ensuring its ready to meet mandatory audit requirements, and possibly steering the company towards flotation in the next few years.
Commenting on his new appointment Mcallion said: "This is an amazing and exciting time to be taking the helm at Servo and I'm looking forward to playing a critical role in its acceleration over the next few years. As we move out of the latest lockdown, all our team will be working from the office again and there are some exciting developments to come within our industry. Servo Group has created an amazing team and brand for itself in a very short space of time and I'm looking forward to the challenge of pushing us even further."
Craig Wilson of Servo Group commented: "Although we considered external candidates, Andrew was the perfect choice to take control of Servo's multiple divisions and steer the company to its next phase of expansion. He has extensive leadership experience, knows Servo Group inside out and we're confident he can maximise all that's great about the Group."
Despite the current pandemic, Servo Group has secured some major new contracts including a facilities management contract with CPCP across Primary Care providers which is creating over 100 new jobs in Leeds.
It boasts an impressive client list which includes Network Rail, Keir, GMI, Buckingham Group and Balfour Beatty and has offices in Leeds and London.
As part of its continued growth, Servo will also welcome a new Technical Director and two other new team members to its Gelderd Road headquarters in May, and will be fully accredited to ISO within the next few weeks.