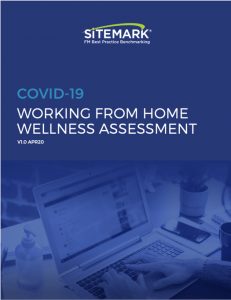 The independent benchmarking service for the facilities management industry has launched a working from home wellness assessment tool to support businesses and employees.
A major impact of the coronavirus outbreak and ensuing lockdown has seen millions of people working from home – 55 per cent of them for the first time. Companies and their staff have had to adapt quickly with little to no time to consider wellness.
The assessment tool is designed for those working from home to score their wellness in five areas:
Working from home – including past experience of working from home, confidence and productivity
Workspace – including a defined workspace, comfortable chair and natural light
IT set up and support – including equipment and ongoing employer support
Employer support – including social interaction, sense of community and frequency of communication
Wellness and wellbeing – including job security, exercise and impact on family members
Businesses can send an assessment to every staff member working from home. Employees work through a series of questions and score their wellness on a scale of 1 – 4. Once all assessments have been returned, business leaders can both address individual concerns, as well as identify any issues that are common among many staff.
David Hylton, Wellness Consultant at Sitemark, commented: "It's testament to the agility and resilience of UK businesses and workers that so many people switched to working from home with almost no notice. Although some businesses may gradually start to reopen, the likelihood is that millions of people will continue to work from home for the foreseeable future. It's vital that they are supported in doing so for numerous reasons, including mental health, physical health and their happiness within their company. Our wellness assessment tool gives companies the framework to support their staff now and in the future."
The working from home wellness assessment tool is the latest in a series of tools Sitemark has released in response to the Covid-19 outbreak, following the workplace risk assessment tool and workplace hygiene programme.
The full set of Sitemark Covid-19 resources can be found here.