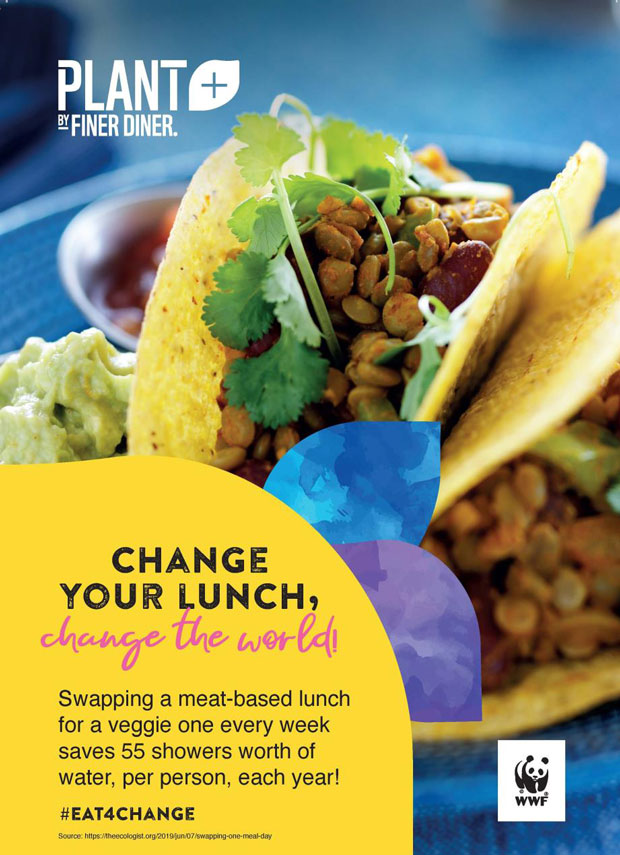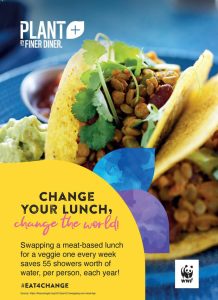 To  help children and young adults understand how small changes in their diets can make a huge difference to the health of the planet, Sodexo in conjunction with WWF-UK have created Plant+ by Finer Diner.
The concept behind Plant+ by Finer Diner is more than just sustainable meals, it is about raising awareness that simple changes in food choices make a big difference on greenhouse gas emissions (GHG). Sodexo states if everyone in the UK ate one plant-based meal once a week, GHG would reduce by 50 million tonnes.
With the strapline 'Let's change the world. One meal at a time', Plant+ includes new delicious plant-based dishes based on popular, traditional meat-based meals and inspired by the Future 50 Foods report published by Knorr Professional and WWF-UK in 2019.
The Plant+ menu has been developed with a focus on seasonal, locally-sourced dishes using 100 per cent plant-based ingredients, all recipes are mindful of dietary requirements and are low in sugar, salt and fat.
Plant+ has initially been launched at 16 schools including Sodexo and Alliance in Partnership operated state secondary schools and independent schools.
As part of Plant+ each school has a teacher and student ambassador to help the catering teams raise awareness of the new sustainable plant-based meals in class and at mealtimes.  The Ambassadors are driving a pledge campaign, asking for everyone to make at least one plant-based pledge and to help encourage uptake of the Plant+ meals they are also holding sampling sessions.
David Mulcahy, Food Innovation & Sustainability Director, Schools & Universities, Sodexo UK said: "Never before has a generation been so engaged in climate change, and food is at the heart of many environmental issues. We have developed Plant+ to raise awareness of the small changes that can be made in their everyday life that will have a positive impact on reducing greenhouse gases.
 
"We are not simply adding plant-based dishes to the school menus, we are encouraging the whole school community to engage, discuss and take action through a range of activities and initiatives that go beyond serving delicious school meals. We are looking forward to working with our student and teacher ambassadors as they help us share the message that we can make a difference one meal at a time."
Finer Diner was developed with WWF-UK in 2019, initially it ran as a pop-up diner visiting a number of Sodexo-operated university campuses to encourage students to try plant-based versions of their favourite dishes.
Your free ticket to Facilities Show 2022
Join thousands of your FM peers from across the world at ExCeL London on 17-19 May.
Bring the team and boost your CPD, your skills and your career with seminars and workshops. Test, trial and source smart solutions across technology, cleaning, FM services, waste and energy management; and meet a host of suppliers for new business collaborations.
5 Shows. 1 ticket.
Your free ticket to Facilities Show gives you unlimited access to four other co-located events, meaning you have a unique opportunity to enhance your facilities management strategy with products and solutions from across facilities management, security, fire protection & prevention, intelligent buildings and health & safety.