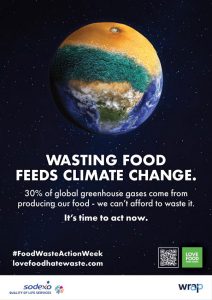 Sodexo has partnered with WRAP in support of the first ever Food Waste Action Week (1-7 March) to tackle food waste and help save the planet.
The initiative, part of WRAP's Love Food Hate Waste campaign, aims to help people make the connection between household food waste and the impact it has on the environment.
Sodexo has long been committed to this goal and has made a pledge to reduce food waste by 50 per cent by 2030, in line with UN Sustainable Development Goals, through its data-driven food waste reduction programme, WasteWatch by LeanPath.

 This initiative enables Sodexo teams to capture food waste data, giving clear insights into what is being wasted in their kitchens and why. Teams can then implement operational and behavioural changes to help end avoidable food waste, whether generated in the kitchen or by consumers.
Sodexo will roll out WasteWatch by Leanpath to 100 per cent of relevant sites by 2025. One office site in Sodexo's corporate services business that recently introduced the technology has already seen an average food waste reduction of 9.5kg per week through, for example, cooking in smaller batches, not peeling carrots, and sharing tips among the team on reducing wastage.
Ana Svab, Corporate Responsibility Manager for Sodexo UK & Ireland, said: "A third of all food produced globally ends up in landfill, and yet 870 million people go hungry everyday, making food waste one of the greatest contributors to climate change and biggest scandals of our time.
 
"There are many reasons for this waste, including overproduction and expiration.
 
"But as a leading food services provider, we have a responsibility to help combat food waste across our operations.
 
"Food Waste Action Week is a fantastic opportunity to help make the connection between the food that goes to waste and the effect this has on our environment, and we will be sharing tips and recipes with our own teams and with our customers to help highlight to role we all play in reducing food waste."
During Food Waste Action Week, Sodexo will be sharing tips from chefs on how to make food go further and use up items that often get thrown away.
Marcus Gover, CEO of WRAP, said: "Wasting food is a major cause of climate change – it generates more greenhouse gas emissions than all the commercial flights in the world. We know through our research that the climate change emergency matters to people so this is something we can – and must – act on together. It is time to focus on saving one of our most precious resources instead of generating greenhouse gases producing food that is never eaten.
 
"I'm delighted to be launching the first UK Food Waste Action Week in March, and to have such strong support from our partners, like Sodexo, across sectors.
 
"Together we will inspire real and lasting change. Food Waste Action Week gives organisations a unique opportunity to capture their customers' attention as part of a national event and help them to play their part in eliminating food being wasted and tackling climate change."