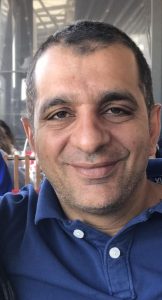 Sodexo's Tony Eleftheriou has been awarded Member of the Most Excellent Order of the British Empire (MBE) in the 2022 New Year Honours list for services to the British military in Cyprus.
Eleftheriou joined the Cyprus team in 2003 as Operations Manager and has over the years held numerous positions before being appointed Contract Director in 2018, where he is responsible for the delivery of a wide range of soft FM services by a team of around 800 Sodexo employees on behalf of the Defence Infrastructure Organisation (DIO) supporting British Forces Cyprus (BFC) in the Sovereign Base Areas.
Commenting on receiving the MBE Eleftheriou said: "I am honoured to receive an MBE. It is very much a team award as I could not have achieved it without the determination, commitment and hard work of all those that work with me."
Sodexo provides a range of services including catering, cleaning, waste services and logistics support at six military bases in Cyprus that are home to deployed troops and their families.
Over the years, Eleftheriou and his team have provided valuable support with operations such as Op Shader and the provision of humanitarian aid of food, water and shelter to refugees who landed on beaches at RAF Akrotiri.
More recently, Eleftheriou has led his team with considerable empathy throughout the Covid-19 pandemic. Maintaining a careful balance of both service provision and safeguarding welfare for his team, sub-contractors and customers alike.
Paul Anstey, CEO Government, Sodexo UK & Ireland said: "We are immensely proud of Tony. He is an exceptional leader and has worked tirelessly over the years to provide excellence and compassion in sometimes challenging and unexpected situations. It is testament to the respect he has earned for his outstanding commitment and hard work that he's been recognised with this honour."
Webinar – Waste & Biotechnology: How biotechnology is helping FMs achieve their sustainability goals and reduce waste.
FMJ & Advetec are on a mission to help FMs accelerate their NetZero plans – but it's a process that must first start with lifting the blindfold, challenging the waste supply chain, being accountable and making great user of technology.
On the 26th January at 11am FMJ & Advetec are holding a webinar on how biotechnology can help FMs achieve their sustainability goals and reduce food waste.
FMJ Editor, Sara Bean, will be joined by:
Dr Stephen Wise, Chief Strategic Development Officer, Advetec
Rochelle Gee, Head of Property Services, Buckinghamshire Healthcare NHS Trust
Ray Parmenter, CChem MRSC, MCIWM, CIWM: Head of Policy and Technical
Chris Havers, Programme Director Acclaro Advisory & SFMI
Together they will discuss:
The role of the circular economy in helping cut carbon emissions.
Challenges and opportunities for FMs in managing waste to meet environment, social and governance (ESG).
How the latest technology is available to help.
Click here to register.