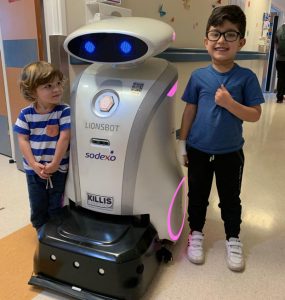 Chloe the robot has joined Sodexo's cleaning team at Stoke Mandeville Hospital, part of Buckinghamshire Healthcare NHS Trust.
Named by young patients on the children's ward, Chloe will be helping the team who keep Stoke Mandeville hospital a clean and safe space for all by ensuring the floors of communal areas, corridors, entrances and the children's wards are kept spotless, whilst her human colleagues concentrate on sanitising touch points around the hospital which is crucial to preventing the spread of infections such as Covid-19.
Chloe has been designed with the patient experience in mind. She provides essential floor cleaning which dries quicker than other methods and can also interact with patients, visitors and hospital staff whilst performing her cleaning tasks. With her sleek design, expressive eyes and ability to speak, Chloe has a friendly and approachable personality.
Philip Leigh, CEO Healthcare, Sodexo UK & Ireland said: "Chloe is an exciting new addition to our cleaning team at Stoke Mandeville, reaffirming our commitment to the Trust to bring innovation into the delivery of FM services at the hospital.
"At Sodexo we understand the importance of patient experience and Chloe, will not only support her human colleagues in the provision of a high standard of cleaning and hygiene practice at the hospital, but will also provide some entertainment for the hospital's younger patients and their carers as they interact with her as she carries out her duties."
Chloe, who is teamed with a human colleague to assist her in her duties, has a range of sensors which include precision lidars, sonars and a light-enabled safety bumper, all well-integrated to equip the cleaning robot with the capability to cleverly see the environment around them and to respond accordingly, meeting the objective to detect and avoid any potential collisions in the cleaning path.
Chloe, is a LionsBot robot and is operated through Lions Operating System (LionsOS), software that empowers the robot for optimal performance. Using cutting edge technology in artificial intelligence, a LionsBot robot provides an excellent user experience while placing a strong emphasis on total safety, total security and total solutions from the ground up.
Ali Williams, Commercial Director at Buckinghamshire Healthcare NHS Trust commented: "We are delighted to welcome Chloe to our hospital. She is a great innovation. Not only will she free up Sodexo's team to ensure the hospital continues to be kept clean and sanitised, but Chloe will also bring some fun and distraction for our young patients, their families and all those working at the Stoke Mandeville Hospital."
Webinar: Now hiring! Overcoming the challenges of recruiting for soft services.
Recruiting for soft FM services is proving more difficult in the post-Covid workplace. So, what can FMs do to overcome this?
Sara Bean, Editor of FMJ, and Jess Pritchard, Head of Corporate Sector at Moneypenny are joined by panellists:
Mark Whittaker, General Manager, Thomson FM & Chair of IWFM
Ian Wright, Soft Services Manager, University College London
David Bauld, Group Facilities Manager, Paradigm Housing
Coleen Cloherty, Director of Build Recruitment
Together they will discuss the current skills shortage in a number of FM areas, ways to keep staff engaged in their job through brilliant culture, and how outsourcing could be a solution to the recruitment issue. Secure your place now for Thursday, 25th November at 11am.
To register click here.