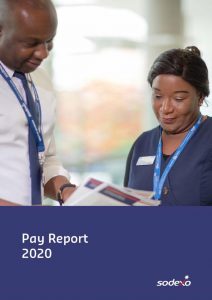 Sodexo UK has become the first company in the hospitality and FM industry to voluntarily published its ethnicity pay gap data for 2020, reporting a mean ethnicity pay gap of five per cent.
The food services and facilities management company says it has a long-standing commitment to fairness and equity and is committed to creating a diverse and inclusive workplace, and in 2019 publicly pledged, through Business in the Community's Race to Work charter and through the INvolve/EMpower ethnicity pay gap mandate framework, to publish its ethnicity pay gap.
In July 2020 Sodexo joined a number of business leaders in signing an open letter spearheaded by Audeliss & INvolve and pledging to take action and report on its progress annually.
In the report Sodexo has included pay gap data for three different ethnic groups: Black, Asian and Mixed Ethnic backgrounds, as it recognises that publishing the combined pay data for these groups may hide disparities between the different groups.
Sodexo says the events of 2020 have encouraged the business to do more and over the last year it has created a strategic taskforce made up of senior leaders from Black and other ethnic backgrounds to lead on company-wide change programmes, one of which has been the launch of its Be Heard series of listening groups. Developed specifically for Black colleagues to share their lived experiences of working at Sodexo, the first series has resulted in action plans developed for each of its business segments.
With regards to gender, the impact of the Covid-19 pandemic on Sodexo's business and requirement from government to exclude furloughed colleagues receiving less than their regular full pay from the data has resulted in a slight increase in Sodexo's 2020 mean gender pay gap from 14.12 per cent in 2019 to 14.36 per cent in 2020.
Sodexo has an established gender balance strategy and throughout the pandemic maintained its strong focus on gender balance. It was one of the first organisations to publish its gender pay gap data in 2016, ahead of government legislation introduced the following year requiring companies with over 250 employees to do just this.
Sodexo says it will use its latest gender and ethnicity pay data to focus its strategy on where and how these gaps need to be reduced, and adds the annual publication of its gender and ethnicity pay gap findings will become standard practice for the company.
Sodexo's action plan for the UK & Ireland includes:
Establish targets to increase ethnicity representation in senior leadership positions
Achieve 43 per cent (currently 37 per cent) representation of women in senior leadership by 2025
Reduce mean gender pay gap across all legal entities combined to 10 per cent or less by 2025
Continue to monitor pay practices
Create more sponsorship and development programmes for females and unrepresented ethnic groups
Undertake a diagnostic review into attraction and progression strategies
Conduct an employee census to increase our ethnicity data, and improve the quality of the data we hold
Sean Haley, region chair, Sodexo UK & Ireland said: "We feel strongly that the first steps towards achieving our diversity and inclusion goals are transparency and holding ourselves publicly accountable.
"There is a lot of work to do to improve parity in both gender and ethnicity, but only with this level of clarity and the impetus to have more open conversations, can we put measures in place to move our organisation in the right direction and to do better by our colleagues and the communities in which we operate."
To view the report click here.