In celebration of today's International Day of People with Disabilities Sodexo has published a report of the findings of a survey into the lived experience of employees and customers with disabilities.
The report, 'A day without explanation: the future of disability inclusion?', is the result of a survey carried out by Sodexo and PurpleSpace, the professional network hub for disabled employees.
Nearly 900 people from the PurpleSpace network, partner organisations, Sodexo and its external communities responded to the survey, which aimed to help Sodexo understand how to better support employees and customers with disabilities.
The results showed that 79 per cent of respondents believe that people with disabilities find it much harder to build and nurture inner confidence and resilience, which may impact their ability to progress at work.
The report highlights the crucial first port of call role that line managers play, with 75 per cent of respondents with a disability having informed their line manager. However, many believed that their employer doesn't do well in sharing information about role models; only 15 per cent have heard about people with disabilities in senior or managerial positions in their organisation.
Sodexo was also interested to understand the needs and experiences of customers with disabilities.

 When asked about their experiences as a customer, 30 per cent believed that they received a good service where their needs are anticipated, while 45 per cent have to explain individual needs to a different person on each visit.

 The research highlights that there is significant appetite for disabled customers to use mechanisms that make it easy to be identified as having access needs.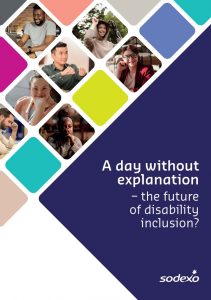 Sarah Perry, HR Director, Sodexo UK & Ireland, said: "This research has provided useful insight that we will be using to improve the workplace experience for colleagues with disabilities, and sharing with our clients and partners.
"Sodexo is proud to be a Disability Confident Leader, but the results clearly show that there is more we can be doing to improve the experience of our employees.  
"Last year, we set up an employee network for people with disabilities and allies to help people feel more supported and connected. There are already nearly 150 members of this network, and we'll be engaging with them to understand how we can better improve how adjustments at work are made to help people feel more actively involved in the process.
"We will also be considering how we can work with our onsite teams to make improvements for our customers, and with our clients to help them provide more inclusive workplaces."
Sodexo is a committed to disability inclusion, having made a global commitment to provide 100 per cent of its workforce with access to programmes for people with disabilities by 2025.
In 2018, 
Sodexo achieved Leader status in the UK Government's Disability Confident scheme, affirming its commitment to recruit and retain people with disabilities and long-term conditions.
Sodexo will be participating in PurpleSpace's #PurpleLightUp taking place today (3 December); a 24 hour global broadcast with webinars, interviews and panel discussions to spark conversations about disability inclusion worldwide.