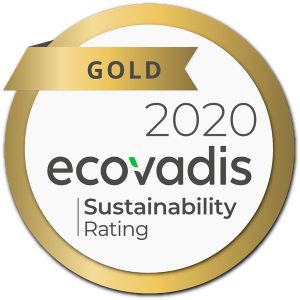 The independent European provider of multi-technical services in the areas of energy and communications, is again this year placed amongst the best companies in its industry in terms of corporate social responsibility (CSR) according to ratings agency EcoVadis.
EcoVadis, the recognised organisation which rates companies on sustainability and their CSR, has been rating SPIE since 2010 on its performance on the topics of "environment", "social", "ethics" and "procurement", and in 2020 commended the Group on boosting its investment programme in sustainable development.
Energy transition and digital transformation
In its comparison table, EcoVadis assesses whether a business offers products or services which contribute positively to society or the environment. So, in 2020, when compared against the benchmark set by the European taxonomy for sustainable activities, 41 per cent of SPIE's operations contributed significantly towards the fight against climate change.
Gauthier Louette, Chairman and Chief Executive Officer of SPIE commented: "In the fight against climate change, SPIE is definitively part of the solution. Our contribution is focused on the energy efficiency of buildings, services for electricity grids, the shift to renewable energy sources and sustainable mobility. These long-term drivers are core to the upcoming stimulus plans all across Europe."
Since this latest assessment by EcoVadis, SPIE has announced a commitment to reducing its direct carbon footprint by 25 per cent by 2025.  This reduction in the Group's carbon footprint will be achieved by converting more than a third of its fleet to electric vehicles and improving the energy efficiency of its buildings.
Strengthening dialogue with stakeholders
The Group published its first Materiality Matrix in 2021. A shift in energy mix, green economic recovery, client shift to sustainability and workplace health & safety are all promoted to the top of its priority challenges as identified by its stakeholders for the next few years. The results obtained show the extent to which SPIE is expected to be a facilitator in the energy transition, helping to achieve an economy which is increasingly decarbonised.
Rooted in SPIE's corporate culture, workplace health & safety is a key challenge. Since the start of 2021, the Group has been deploying its awareness campaign entitled "10 Life Saving Rules". The aim is to prevent serious accidents by having action plans and targets in terms of numbers. As a result, serious accidents in 2020 within the Group were reduced by 25 per cent. This figure comes on top of a confirmed drop of 20 per cent already seen in 2019.
"Based on precise and measurable data, our rating by EcoVadis is proof of the Group's commitment to and success in sustainable development", said Isabelle Lambert, CSR Director at SPIE. "SPIE's performance in terms of CSR has also recently been recognised by other ESG ratings agencies, such as Sustainalytics, MSCI and VIGEO, who clearly rated the Group's performance upwards in 2020."