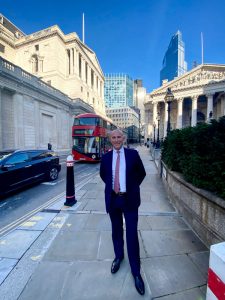 Security firm, CIS, had appointed Steve Hall as Director Corporate Strategy.
His role will lead the design of strategy across various high-value projects within CIS Security Limited. Hall will drive the strategic planning process and act as a trusted advisor to the leadership team. He will also support the evaluation and development of the business's long-term strategic plans and client relationships.
Hall previously served as Chief Executive at Ultimate Security, growing the company to £85 million turnover under his leadership.
Speaking about Hall's appointment, Neill Catton, CIS Managing Director, said: "I have known Steve for several years and always respected the work that he did previously. His appointment further underpins our investment in structure and for CIS to maintain its reputation for quality and trust.
"Steve's new role will support our growth plans as we look to increase our market share and diversity of security services over the years to come."
Hall commented: "After three years away from the industry I was looking for a new challenge and met with Neill and Amanda to understand their aspirations. I knew CIS were a company with a good reputation within London and on hearing their vision for the business it was easy to accept this exciting role.
"It's great to be on board and I cannot wait to start working with the senior leadership team and together achieve growth with the continued quality and trust that has been built up over the past 50 years."
Webinar – Prioritising wellbeing in a Covid-secure workplace
FMJ has teamed up with Zip Water, creator of award-winning sustainable drinking water systems, to discuss the ways in which FMs can safeguard the provision of essential amenities within the workplace as we emerge into a new era of touch-free, socially distanced offices.
During the event, which will feature a panel of leading FMs and an FM services provider, we will discuss how FM professionals, office managers and HR managers can balance the need to manage shared spaces, such as staff kitchens, while maintaining a safe environment and meeting energy and waste reduction targets. This will include a look at some of the latest touch-free technologies; including apps to manage workflow and hands-free automation (e.g. automatic doors, taps etc).
Join us on Wednesday 25th November at 11:00am for an event which will address the ways FMs can meet their commitment to ensure the wellbeing of people as an integral part of their sustainability remit.
To register for the webinar please click here.