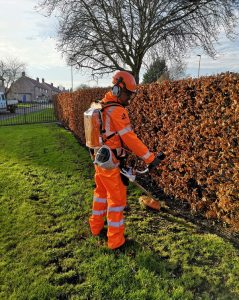 Tivoli has had its ground maintenance contract with West Lindsey District Council extended for a further year.
Tivoli's teams have been working with West Lindsey District Council since 2011, and the current contract commenced in 2014.
Grounds maintenance services delivered by Tivoli include grass cutting, flower/shrub/rose bed maintenance, memorial inspections, and the provision of hanging baskets for open spaces, churchyards, cemeteries, and ornamental areas across the district.
The district of West Lindsey covers 447 square miles of the area immediately north of Lincoln and is predominantly rural, with three attractive market towns of Caistor, Gainsborough and Market Rasen.
Spencer Rock, Tivoli Chief Operations Officer, said: "Tivoli is delighted to have secured this contract for a further year. We understand the importance of sustaining high standards of grounds maintenance across local authorities, particularly at present, and we will continue to deliver a high-quality service to West Lindsey District Council."
The contract will now run until the end of January 2022.
Webinar – Prioritising wellbeing in a Covid-secure workplace
FMJ has teamed up with Zip Water, creator of award-winning sustainable drinking water systems, to discuss the ways in which FMs can safeguard the provision of essential amenities within the workplace as we emerge into a new era of touch-free, socially distanced offices.
During the event, which will feature a panel of leading FMs and an FM services provider, we will discuss how FM professionals, office managers and HR managers can balance the need to manage shared spaces, such as staff kitchens, while maintaining a safe environment and meeting energy and waste reduction targets. This will include a look at some of the latest touch-free technologies; including apps to manage workflow and hands-free automation (e.g. automatic doors, taps etc).
Join us on Wednesday 25th November at 11:00am for an event which will address the ways FMs can meet their commitment to ensure the wellbeing of people as an integral part of their sustainability remit.
To register for the webinar please click here.