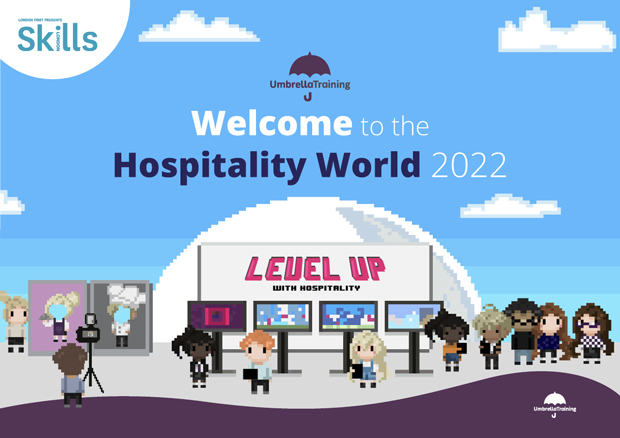 Umbrella Training has partnered with leading hospitality employers to create a giant technology dome packed with sector relevant video games at Skills London – aiming to attract young people into the sector and combat the staffing shortage.
The training and apprenticeship provider has booked the largest space possible to promote careers in hospitality at the show, the UK's largest jobs and careers event for 14-24-year-olds, taking place 25-26 November 2022 at ExcelLondon.
The event offers organisations the opportunity to engage with future talent, with the possibility of reaching 30,000 young people across two days.
The Hospitality Zone will be 8x8m and the inflatable dome will be visible from the main entrance, surrounded by Augmented Reality experiences and full of games to inspire the next generation of hospitality professionals.
Umbrella is designing several video games titled 'Level Up With Hospitality' which will give them an insight into roles in hotels, contract catering, pubs and restaurants. 
Partners already signed up to attend alongside Umbrella include the Goring hotel, the Royal Air Force Club, Caterer.com, the Strand Palace hotel and Red Carnations Hotels.
The number of job vacancies in the hospitality sector has been estimated at around 174,000 by the ONS and 400,000 by UKHospitality. 
Adele Oxberry, Founder and CEO of Umbrella Training, said: "We're so excited to finally be back in-person to showcase the wonderful world of hospitality careers at Skills London, and have pulled out all the stops to make sure hospitality stands out.  
"We're building on the success of our Virtual Reality Hotel from 2017-19 – two years have gone by where young people have been taught at home using gamification, online tools and platforms for their learning, so we are continuing with a technological approach to inspire the next generation.
"There is still time for employers to take part and reach out to young people to show them how they can level up with hospitality, and we'd encourage any employer looking for staff to get involved."
Kate Nicholls, Chief Executive of UKHospitality, added: "We are delighted to be supporting Umbrella Training on their stand at Skills London. As an organisation representing the vast and diverse array of hospitality businesses, we know only too well the importance of communicating with young people at what is a crucial time in their development. Hospitality can drive national post-pandemic recovery, but only if it has access to enough staff, with the right skills.
"Umbrella's novel approach to engaging the younger end of our workforce is invaluable in terms of ensuring that we spread the word about the fantastic job opportunities, development paths and rewarding careers available in hospitality."