Uncommon's newest space, Uncommon Holborn (81-87 High Holborn) opening in early 2021, has been registered for WELL Core Certification.
The scheme aims to become the first Platinum Certified WELL Core office in the UK, and the UK's first WELL Platinum Certified co-working space, demonstrating excellence and thought leadership in design for people's health and wellbeing.
Proposed features of the building will include:
Upgraded water filtration, in line with WELL Building Standard requirements, to ensure that the purest drinking water is delivered to building occupants
Upgraded ventilation systems which will filter out pollutants, including dust particles (known as PM2.5 and PM10), and ensure a good supply of fresh air is delivered to boost the productivity and support the health of the building occupants
Exemplary levels of natural daylight throughout the building, with strategically placed lightwells and voids
Ensuring that the majority of desks can be located no further than 6m of glazing.
Exemplary acoustics and wall construction which ensure acoustic privacy between meeting rooms and tenant spaces
A focus on biophilic design with extensive interior planting throughout to improve concentration and mental well-being, and the use of species which are known to improve indoor air quality and filter pollutants
Careful attention to detail with regard to the use of materials in the base specification, taking care to avoid materials with high levels of Volatile Organic Compounds (VOCs) and toxins, and specifying natural materials where possible
The use of natural wood in meeting rooms for its calming and relaxation properties
Echoing nature's patterns and incorporating a sense of nature and wilderness throughout the building.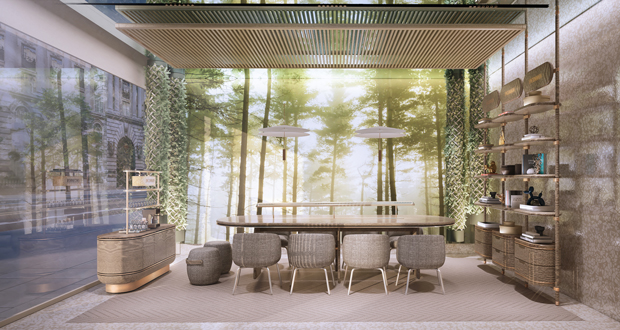 Extensive tenant amenities and programmes of events to support well-being, including a state-of-the-art fitness area, along with a dedicated meditation and yoga space will be incorporated. Uncommon offers all its members a weekly programme of events which include a number of health, wellbeing and mindful activities and group discussions. Members can expect discussions, classes and coaching from external partners and experts in their field. Including morning mindfulness sessions, nutritional advice and cooking classes, tea time talks, business coaching and upskilling activities
Uncommon already had many internal policies and design requirements which were very aligned with the WELL Building standard, identified when consultancy firm specialising in design and certification services for well-being, Ekkist, carried out a Gap Analysis of the proposed building and company policies.
Founder and interior designer, Tania Adir, has spent the best part of a decade researching health & wellbeing in the workspace and its correlation to increased productivity, creativity and concentration, amongst other factors. These elements are evident in every Uncommon space, in the form of sounds, scents, lighting, ergonomic furniture and biophilia and will very much be the case at Uncommon Holborn too.
Adir commented: "The values of Uncommon lie in delivering a holistic and mindful experience, which in essence provide a more harmonious space to work in with the benefits of its biophilia and sensory elements. Uncommon sits on a foundation of three strategic pillars, health & wellness, art & design, and technology – all of which collaborate to deliver a unique experience for all members and guests, and these elements will play a very large part in the makeup of our fifth space, in Holborn."
Uncommon is a creative flexible co-working space, currently with four spaces across London, in Highbury & Islington, Borough, Fulham and Liverpool Street, with its fifth, largest, flagship space opening in Holborn next year.
Your free ticket to Facilities Show 2020
Join 12,000+ of your FM peers from across the world at ExCeL London on 08-10 September. Bring the team and boost your CPD, your skills and your career with seminars and workshops at the only IWFM- supported exhibition. Test, trial and source smart solutions across technology, cleaning, FM services, waste and energy management; and meet a host of suppliers for new business collaborations. Your ticket also gives you free access to co-located shows to boost your specialisms across wellbeing, smart buildings, fire, security and health & safety.