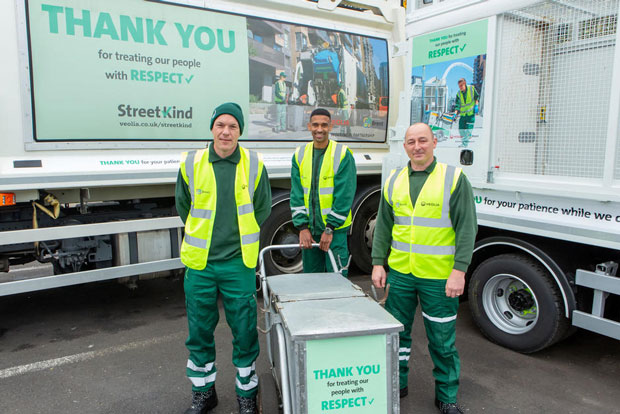 Environmental solutions company, Veolia, is taking a stand after reports of rising abuse from frontline staff more than doubled, with a 118 per cent increase compared to the same period last year.
Veolia has launched StreetKind, a new campaign thanking residents who recognise the hard work of its teams and taking stronger action against those who abuse or endanger its staff. Whilst the majority of people are respectful and kind to frontline staff, a rise in the most serious cases of physical and verbal abuse has led to a new commitment from the company to pursue more prosecutions.
The campaign builds on previous initiatives within the company focusing on building a safe workplace and includes a comprehensive training programme to support staff to defuse situations, handle instances effectively and how and when to involve the police. Frustration at being stuck behind a collection vehicle or queues at recycling centres are not reasons to abuse key workers and the company is reaffirming its support to staff who are victims of abuse.
Beth Whittaker, Chief Human Resources Officer at Veolia said: "I talk to our people on a regular basis and they are passionate about their work and their teams, but hearing their stories of abuse, especially in the last six months, has been increasingly distressing. No one should be abused simply for doing their job and we're determined to combat this unacceptable trend.
"As well as appealing to the public to show their appreciation for our teams, we are also focusing on training and support for our employees to respond to incidents. We will take the most serious action for the most serious attacks, including prosecutions, in order to build a safer workplace environment for our colleagues."
The campaign launches for its first phase across 20 local authority areas, including some of the worst affected areas in Hampshire, Essex and South London. StreetKind will thank residents for their patience and invite them to engage with the company's hard working teams. Veolia hopes to decrease the instances of abuse, but has pledges to staff that reports will be investigated and strong action taken when necessary.
StreetKind will be localised to each area and will launch with the full support of the local councils and Veolia's Executive Board.
Webinar: Now hiring! Overcoming the challenges of recruiting for soft services.
Recruiting for soft FM services is proving more difficult in the post-Covid workplace. So, what can FMs do to overcome this?
Sara Bean, Editor of FMJ, and Jess Pritchard, Head of Corporate Sector at Moneypenny are joined by panellists:
Mark Whittaker, General Manager, Thomson FM & Chair of IWFM
Ian Wright, Soft Services Manager, University College London
David Bauld, Group Facilities Manager, Paradigm Housing
Coleen Cloherty, Director of Build Recruitment
Together they will discuss the current skills shortage in a number of FM areas, ways to keep staff engaged in their job through brilliant culture, and how outsourcing could be a solution to the recruitment issue. Secure your place now for Thursday, 25th November at 11am.
To register click here.