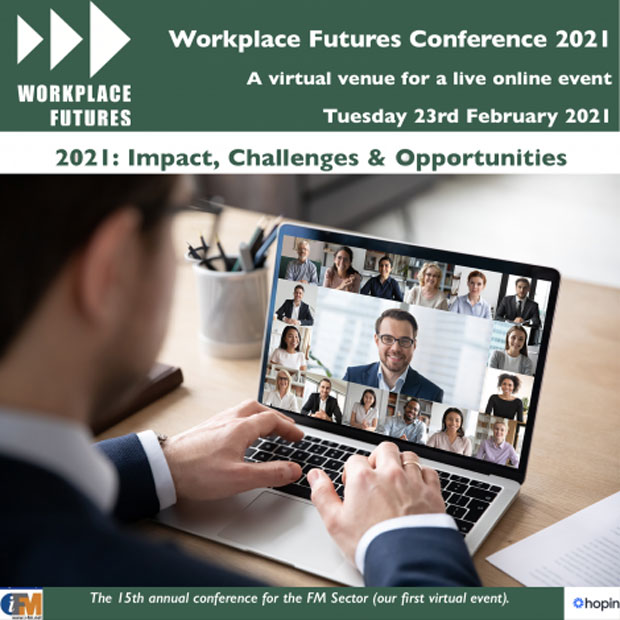 The FM industry's first big conference each year for the past 15 years takes place on the 23rd of February, this year online for the first time.
As difficult and tragic as the Covid-19 pandemic has been, it has put a spotlight on the business-critical discipline of facilities management. This year's Workplace Futures conference starts from the argument that there is an opportunity for the industry to build on this, highlighting how and where FM adds value to client organisations and our wider economy and society.
The conference programme will tackle the impact, challenges and opportunities that are shaping the industry now and that will shape it through the near-term, providing delegates with information and insights with real, useable value.
David Emanuel, managing director at conference organiser i-FM, explained: "We are very much looking forward to welcoming our delegates, speakers and sponsors this year to our fifteenth annual conference but our first virtual one. We've always focused on ensuring that the content is relevant to the FM sector and that we provide the most passionate and insightful speakers, and this year is no different.
"Given the level of business uncertainty we are all living with, it is even more compelling to attend this year's event – to engage, discover and discuss the impact, challenges and opportunities that exist for the sector in 2021 and beyond. We've been careful to shift to an online platform that will ensure the delegate experience is participative and interactive, and of course with plenty of insights and take-aways to be had."
Full details for the programme and how to book can be found at www.Workplace-Futures.co.uk
Confirmed speakers include:
Simon Titchener, CCO, ISS UK
Ian Marson, Transaction Advisory Director, EY
John Raspin, Partner, Frost & Sullivan
Rob Harris, Principal, Ramidus Consulting
Mark Miller, Workplace Technology Strategist, Cisco
Marie Puybaraud, Global Head of research, JLL
Baskar Sundaram, Chief Executive, Baachu
Peter Ankerstjerne, Chair, IFMA
Julie Ennis, CEO Corporate Services, Sodexo UK & Ireland
Simon Venn, Chief Government & Strategy Officer, Mitie
Andrew Hulbert, Managing Director, Pareto FM
Matt Dracup, Net Zero Development Director, ENGIE
Paul Bean, CEO UK & Europe, City FM
Lucy Jeynes, Managing Director, Larch Consulting