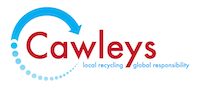 1 Covent Garden Close, Luton, Beds, LU4 8QB
1 Covent Garden Close
England
LU4 8QB
GB
Cawleys are a full-service recycling and waste resource management company providing a reliable and cost-effective service to businesses in our region. As a family-run organisation with a long standing local heritage, we have a strong focus on sustainability and we are a driving force for innovation in waste reduction, reuse and recycling.
We have facilities in Luton, Wellingborough and Milton Keynes servicing businesses from Bedfordshire, Buckinghamshire, Cambridgeshire, Hertfordshire and Northamptonshire, as well as North and East London, and regional hubs across the UK.
We help businesses of all size and type recycle all types of waste including plastic, card, paper, glass, food, coffee and much more. We also operate a specialist hazardous waste division that encompasses hazardous, clinical and offensive waste collection, as well as the cutting-edge practice of reclaiming and recycling the valuable elements in lithium batteries used to power electric vehicles. We also provide skip hire and our Van-ish service offers van clearance and the  collection and disposal of ad-hoc bulky waste items.