Good signage is important to us all and it is used everywhere for so many different reasons.
DURABLE'S signage solutions are designed to present information clearly and professionally and have revolutionised the way that businesses can display notices, directions, warning signs and POS. They're flexible, inexpensive and presents information simply and efficiently.
Discover DURABLE's flexible labelling solutions for internal, curved & external signage!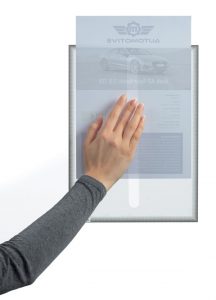 DURAFRAME®
DURAFRAME® the original info frame, is an innovative and easy to use signage solution, designed to present information inside buildings, warehouses, schools and offices.
Self-adhesive, magnetic and hook and loop attachment options are available so the frame can be applied to any surface including windows, doors, walls, fabric boards, lockers, fridges, and whiteboards.
Info Pockets
In contrast to the DURAFRAME® range the Info Pocket is designed especially for curved surface, suitable for attaching specs to car windows, notices on shop windows and sales counters. The statically adhesive pockets are UV and heat stable, perfect for displays in the sun, and thanks to the insertion aid on the back, posters and notices can be interchanged quickly and easily.
Water-Resistant Pockets
The newest additions to DURABLE's portfolio of signage solutions and complimentary to DURAFRAME®, are the Water-Resistant Pockets. Due to the pandemic, more information is required to be displayed in outdoor areas. Displaying information outdoors such as garden centers, swimming pools, gates and notice boards is also sometime required.
The new Water-Resistant Pockets protects the contents especially in rain, high humidity, wetness and from dirt and can be attached via adhesive, magnetically or using cable ties.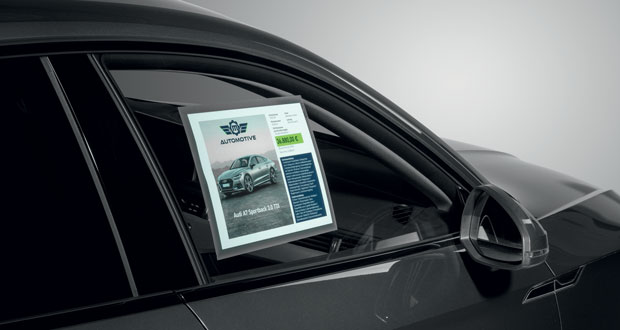 Try it for yourself. Request your free sample at www.durableFMJ.co.uk
-ends-
To have your industry news published in the pages of FMJ's news section, Month in FM, and here online on fmj.co.uk, please send your news and image to Danny Grange danny.grange@kpmmedia.co.uk
The view or information contained within these unedited press releases, are that of the company producing it and not necessary the views of kpm.