A greener office isn't just a trend but a long-term change toward greater sustainability in the workplace. Many companies and authorities are already voluntarily choosing office designs that are environmentally friendly and save resources. Modern workplace solution expert DURABLE now offers an ecologically sustainable range of desk accessories, made from 80% recycled materials. DURABLE's production focuses on recycling in the sense of a responsible circular economy.
The NEW blue angel range is high-quality with a classic design that is intended to be used for many years to come. This range is designed to recycle and repurpose existing plastic material and create new premium products for the workplace. From letter trays to magazine racks, catalogue stands, note boxes, pen holders, and desk mats, you're sure to find a product to suit you.
In addition to the recycled material, the durability of the new desk accessories also means greater sustainability. DURABLE uses a particularly high-quality plastic that is tough and holds its shape well. The classic modern design of the products is a good fit for any interior. The sleek lines and functional design elements, like the wastebasket handles, are inspired by timelessly beautiful Scandinavian design classics. With this range, DURABLE once again clearly demonstrates its multiple-award-winning design expertise. The products are available in a choice of black, blue, and grey.
If we all make one small contribution, one step to lessening our environmental impact, and then promote that activity and encourage our colleagues, friends, and associates to do similar then we can make a positive change.
Shop sustainably with Durable UK without giving up style with this eye-catching, premium range that looks fantastic in any home or workplace setting.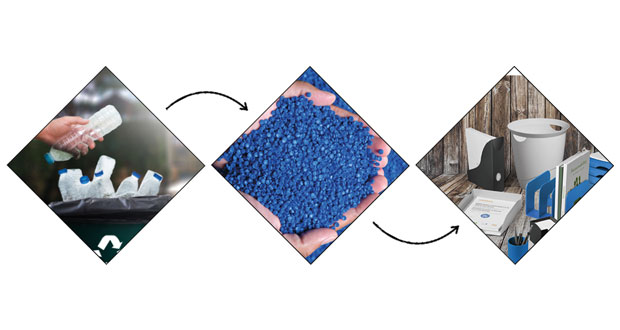 For more information visit www.durable-uk.com or www.durable-uk.com/product-highlights/focused-products/blue-angel.html
-ends-
To have your industry news published in the pages of FMJ's news section, Month in FM, and here online on fmj.co.uk, please send your news and image to Danny Grange danny.grange@kpmmedia.co.uk
The view or information contained within these unedited press releases, are that of the company producing it and not necessary the views of kpm.