Recycling company Paper Round calls for the industry to look 'beyond net zero'
In recent years, the push to deliver 'net zero' has grown remarkably. But is it enough? Not according to leading London & South East recycling company Paper Round.
They have launched a brand-new campaign, their SustainABLE Pathway, which goes beyond a net zero ambition. A series of ten commitments set out how the company will actively reduce their carbon emissions and help their customers with their own carbon reduction initiatives.
The company's ten commitments include:
Reducing their carbon emissions, being the UK's first waste company focused on the commercial market, to set Science Based Targets
Committing to be a net zero company by 2030
Innovating and investing in new technologies, such as using AI in their MRF, to further improve recycling outcomes
Decarbonising their infrastructure by electrifying their fleet and continuing to operate clean energy buildings and equipment
And to help their customers reduce their carbon emissions, they will:
Offer enhanced carbon reporting, allowing clients to report on their scope 3 waste emissions, and demonstrate the benefits of avoided carbon emissions
Bring to market a range of lower carbon recycling services and circular economy products
As the first campaign of its kind in the waste and recycling industry, Paper Round hope that their commitments to carbon reduction will spearhead change in the industry and encourage businesses to adopt circular economy principles.
According to a report by Circle Economy, just 8.6% of the global economy is considered circular – that's less than 10% of the 100 billion tonnes of materials extracted for use are re-used or recycled each year. Each of these materials have their own carbon stories. This brings recycling and the circular economy to centre stage.
The waste and recycling industry is unique in that recycling removes the need for energy intensive creation of new materials, thereby reducing the generation of greenhouse gases. These are known as avoided emissions. For example, paper emits carbon if it's burnt, but avoids over half a tonne of CO2e for each tonne of paper recycled (source: Scottish Carbon Metric).
Companies across the UK have rushed to make net zero statements since the Government declared a climate emergency and set legally binding targets. But that's the easy part. Actually implementing change and achieving real carbon reductions is where it starts to get interesting.
In light of this, Alison Roe, Director of Paper Round comments: 'The need to reduce carbon emissions has never been greater and recycling is a critical process in limiting global warming to 1.5 degrees. We have now moved from our planning to action phase, for example we have just started to operate London's first electric RCV dedicated to commercial clients' collections. We're actively encouraging our clients to not 'waste' the net zero opportunity and take action right away. We are very excited to be on our SustainABLE Pathway to go beyond net zero, to a lower carbon and circular economy future, for our company and our clients."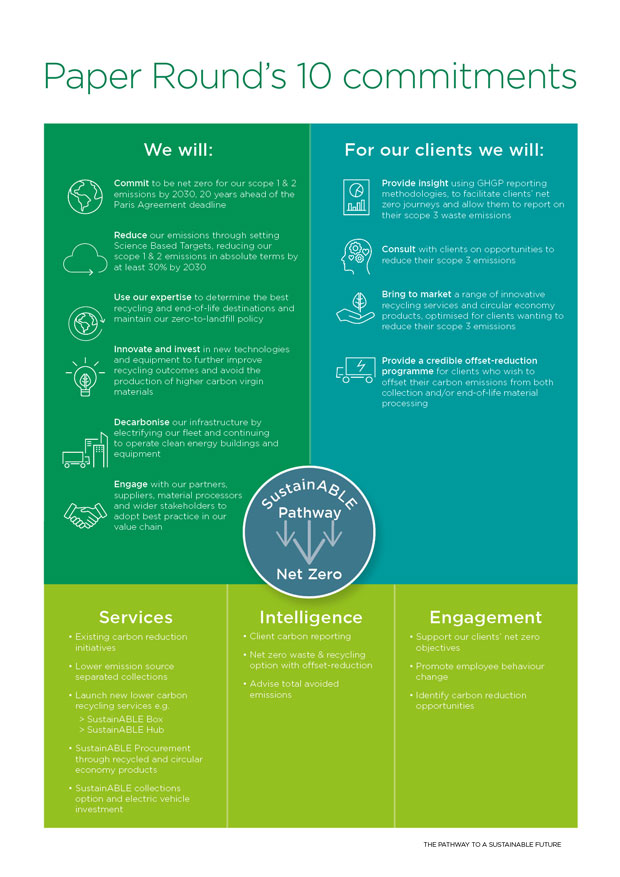 To find out more about Paper Round's latest campaign, download your free copy of 'Paper Round's Pathway to deliver a Sustainable Future'.
www.paper-round.co.uk/sustainable-pathway-download
-ends-
To have your industry news published in the pages of FMJ's news section, Month in FM, and here online on fmj.co.uk, please send your news and image to Danny Grange danny.grange@kpmmedia.co.uk
The view or information contained within these unedited press releases, are that of the company producing it and not necessary the views of kpm.