Anthony Ainsworth, COO at npower Business Solutions explains why Scope 3 needs to be on your sustainability agenda
At the start of this year, there was real optimism that 2021 would be a year of major climate action. While several key government policies were delayed, ahead of COP26, it published its long-awaited Net Zero Strategy(i) and Heat and Buildings Strategy(ii) in October, which followed the Industrial Decarbonisation Strategy(iii) and Transport Decarbonisation Plan(iv) earlier this year.
We have also seen an increasing number of organisations in both the private and public sectors committing to ambitious carbon reduction plans, which has led to greater scrutiny in terms of exactly how businesses are measuring, managing and reporting their carbon impact.
As such, while great strides are being taken to reduce the 'direct' emissions from premises and power supply, attention is now turning to the 'indirect' emissions from the wider value chain. In the private sector, many businesses are aligning their plans through the Science Based Target initiative (SBTi)(v), and a key part of this is putting strategies in place to reduce Scope 1 (direct), 2 (power-related) and 3 (indirect) emissions as outlined in the GHG Protocol.
For facilities managers, this can impact them in a number of ways, depending on where their business sits in the supply chain. As an 'influencing' business, they may be required to provide support to help report emissions generated beyond their own operations. Or, they could be in an 'influencee' business, where a company they supply is now requiring them to change how they work so the 'influencer' company can meet their own sustainability targets.
Or, they could be both an influencer and influencee business, wanting to reduce their own indirect emissions while also needing to meet the sustainability requirements of another company they supply.
Therefore, it can be easy to see why addressing both direct and indirect emissions can be a hugely complex area to navigate.
WHAT ARE THE THREE SCOPES?
Firstly, it makes sense to look at what the three 'Scopes' are. According to the GHG Protocol, they are defined as:
– Scope 1 covers direct emissions from owned or controlled sources, such as buildings and premises. This includes fuel combustion and company vehicles.
– Scope 2 covers indirect emissions from the generation of purchased electricity, steam, heating and cooling.
– Scope 3 includes all other indirect emissions that occur in a company's value chain. This includes business travel in non-company vehicles as well as employee commuting. It also includes emissions arising from your purchased goods and services and both upstream and downstream transportation and distribution.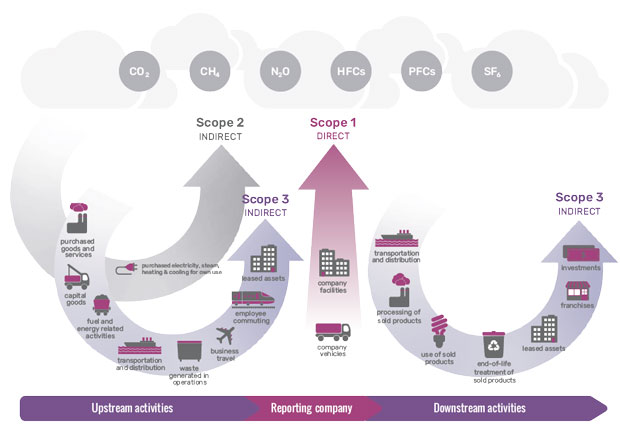 Until recently, many businesses have focused on reducing emissions from their own operations and power consumption under the GHG Protocol Scope 1 and Scope 2 framework as they are largely within a business' control. You can, for example, switch to renewable energy or commit to electrifying your fleets to help reduce these emissions. While using power from the grid will still have emissions associated with it, as the grid moves to renewables, these emissions will reduce.
However, the move towards net zero means that businesses need to look beyond this and across their entire supply and value chain, which is where Scope 3 comes in.
This is where it gets more complicated as it covers everything from the goods purchased to the disposal of the products you sell. In general terms – everything that happens outside of your business' walls.
Typically Scope 3 can account for 80-90 per cent of an organisation's emissions. However, while the Scope 3 standard is the only internationally accepted method of measuring value chain emissions, measuring Scope 3 emissions can be complex and time-consuming.
That said, there are numerous commercial and reputational benefits to understanding Scope 3 emissions. For example, as they become more climate aware, consumers are now more likely to look at a company's whole value chain when it comes to brand loyalty. For businesses who form the supply chain, future contracts may depend on having a strong sustainability plan in place.
That is why collaboration is crucial. With more organisations in both the public and private sectors now declaring Scope 3 as part of their decarbonisation strategies, the importance of understanding what this means for your business' net zero plans will only grow.