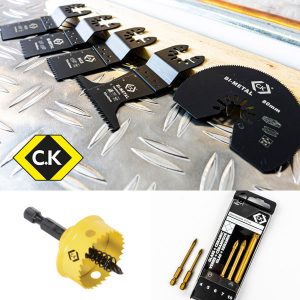 Renowned for high quality power tool accessories, C.K offers everything trade professionals need to power through jobs quickly and efficiently. With that in mind, C.K has enhanced its range with innovative new products, including three new Multitool Blade Sets; a new 40mm HSS Cobalt Sheet Steel Hole Saw; and a Glass and Ceramic Drill Bit Set of 5, all designed to consistently achieve the best results.
The three C.K Multitool Blade Sets, all feature bi-metal blades and include: The C.K Multitool Blade 5 Piece Set (T0870) and two 2 Piece sets (2 x 34mm x 40mm Wood/ Metal Bi-Metal Blades T0875) and (2 x 28.5mm x 57mm Wood/ Metal Bi-Metal Blades T0876).
All the C.K sets were derived from field research, which showed electricians often need to cut through wood and plaster – sometimes nail embedded – and therefore need touch blades to complete the task effectively. The new C.K Multitool Blade 5 Piece Set contains 2 High Carbon Steel Blades and 3 Bi-Metal Blades, with the full set comprising: 2 x 34mm x 40 wood HCS; 1 x 34mm x 40 BIM; 1 x 80mm dia BIM; and 1 x 65mm x 42 wood BIM M2.
The C.K HSS Cobalt Sheet Steel Hole Saw 40mm (T3202 040) offers a faster, smoother cutting action to reduce burring, its cobalt and alloy steel construction allowing it to cut sheet steel faster than standard hole saws. This high performance 40mm hole saw is perfectly placed to address the growing popularity of gland nuts with a 40mm thread.
The C.K Glass/Ceramic Drill Bit Set of 5 (T3059) Titanium nitride coated and tungsten carbide tipped, this premium Glass/Ceramic Drill Bit Set of 5 offers a quick and efficient solution to drilling holes in ceramic and glass. The set contains: 4,5,6,7,10mm bits with a ¼" quick change hex shank.
Designed to work seamlessly with power tools from all the major manufacturers, C.K's new power tool accessories offer quality and reliability to ensure maximum performance every time.
For more information call 01758 704704 or visit www.carlkammerling.com
-ends-
To have your industry news published in the pages of FMJ's news section, Month in FM, and here online on fmj.co.uk, please send your news and image to Danny Grange danny.grange@kpmmedia.co.uk
The view or information contained within these unedited press releases, are that of the company producing it and not necessary the views of kpm.