DEVELOP A COMMS STRATEGY
Once the ball is rolling, its important to keep the whole organisation in the loop in order to get buy-in from all levels. Changing the ways employees use space or interact can be disruptive so they need to engage and be willing to try a new approach from the start.
Don't just tell staff that change is happening, explain why and how this change is managed and how it will benefit them. Use surveys and open conversations to get feedback at each stage. Employees may not know the science behind workplace design or the newest technology, but they are experts on their personal experience. Their options and preferences have to be considered when developing new designs.
It can be particularly useful to identify a handful of employees who have strong networks among their colleagues. They will be in a position to engage with others, listening to their ideas and acting as a bridge between employees and senior leadership.
CREATE A DETAILED CHECKLIST BASED ON GOALS AND TIMELINE
We have guidance for relocation and workplace transformations that breaks down each stage of the process. Such a checklist is a way to bring together targets, budgets, and your timeline into a single, coherent plan.
It needs to be detailed and reflect the ROI and KPIs set out. Elements should include:
Costs including refit CAPEX (new furniture, design, technology and the work of the transformation team) and OPEX (new design, space use, and technology may change ongoing costs).
Timeline. Detail each element of the transformation. Where possible, this should be down to the hour when considering any activity that will disrupt the workspace.
Communication. It is essential to have a strong comms plan. This needs to be a dialogue with employees. Plan how to communicate changes but also how to take and integrate feedback.
IT infrastructure. Any downtime of IT will impact the bottom line so data and telecom migration should be prioritised.
Physical assets. If a move or refit is involved, furniture and physical assets should be comprehensively audited. Decide what to keep, store, refurbish, recycle, or donate. Specialist items such as fragile equipment, sensitive data or valuable artwork may need specialist handling.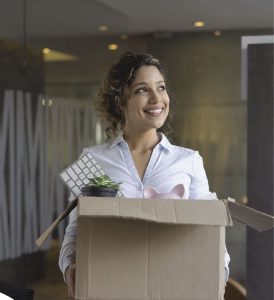 CREATE AN AGILE STRATEGY
Even with all this planning, not everything will run smoothly. Your organisation is almost certain to face some unforeseen challenges or changes of opinion.
Our work with clients during the pandemic is a perfect example. Our teams had to readjust how moves were carried out to allow for social distancing and other safety precautions. Offices were emptied virtually overnight with many personal belongings left on site, so we developed a detailed auditing strategy to record and store thousands of personal items that would be returned to client employees after the move.
This is where working with an external team can be particularly helpful; they can take an objective view and won't get caught up in last-minute stress. Our team could manage changes to the moves strategy while the client could focus on the other challenges posed by the pandemic. For those looking to create a more agile strategy from the start, we offer some suggestions to stay agile while leading change.
BUILD STRONG PARTNERSHIPS
You will likely turn to at least one external organisation during the course of the move, for advice, budget or comms management, storage facilities, or redesign. Look for strong partners whose priorities are aligned with those of your own organisation. It can be tempting during a pricey change to opt for the cheapest provider but lack of organisation or communication on their part could become a significant cost of money, time, or stress.
Find a communicative, agile, and transparent partner organisation and work with them from the start of the process if possible.
A storage partner, for example, will do much more than just store assets during a project. They should advise you on your storage options, monitor item conditions and the time each individual item has spent in storage, and flag a review when the agreed storage time is coming to an end. Look for partners that offer added value and ensure they are happy to work to your goals while also feeling comfortable to advise adjustments.
TAKING A STEP BACK
Overseeing a workplace transformation demands a balance between a holistic approach and an eye for detail. The right team and management can be hugely impactful. It is undeniable that well designed and managed workplaces are more important than ever to draw employees together and encourage collaboration and community. Many organisations are taking this time to upgrade their spaces and technology, but fewer understand their organisation and workplace as an ecosystem. Now is the time to change the way organisations understand their assets and utilise the innovation and creativity that rises from turbulent times.